Christmas and New Year Greetings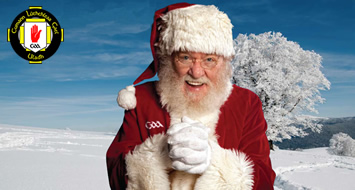 On behalf of Ulster Council, President Aogán Ó Fearghail has expressed his good wishes to Gaels across Ulster for the Festive Period.
Aogán Ó Fearghail said, "I take this opportunity to warmly wish all the GAA supporters in Ulster, our volunteers, our sponsors, media partners , staff and everyone interested in Gaelic Games in Ulster a very Happy Christmas and a Peaceful New Year.
"2012 is sure to be another exciting year for the GAA in Ulster and I very much look forward to the year ahead, which throws in with the Power NI Dr McKenna Cup."
The Ulster GAA Offices will close at 5pm on Friday 23rd December, and will re-open on Tuesday 3rd January 2012.