Club Officer Training Programme for January 2012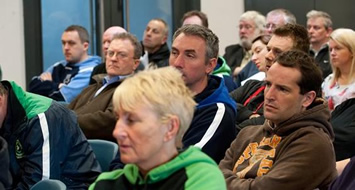 The Annual Club Officer Training Programme starts in January to help club officials in their roles and duties in 2012.
There will be training for all Club Officers in new positions on Saturday 14th January 2012 in Holy Trinity School, Cookstown.  This will be the one and only opportunity for club officers to receive role specific training for the following club positions: Chairperson, Secretary, Treasurer, PRO, Development Officer, Coaching Officer, Child Protection & Designated Officer, and Cultural & Community Officer.  This training is free to access and will include lunch compliments of Ulster GAA.  The morning begins at 10am and concludes at 1pm with lunch.  Registration for this event is essential and anybody interested in attending should contact Sharon Haughey on 02837517180 or email sharon.haughey.ulster@gaa.ie
On Saturday 21st January, it will be the turn of ALL Armagh Club Officers to attend the Club Officer Development Course which will cover key issues facing clubs in 2012.  This event will be held in the Ceannáras at the Morgan Athletic Grounds and will begin at 9am and will conclude with lunch at 1pm compliments of Armagh County Board.  Subjects covered in this course include: One Club (Integration & Inclusion), Club Planning Programme, Apply for Club Maith, Club Health Matters, Club Finance, Designated Officers in Child Protection, Respect and Discipline within the GAA.
All Armagh Clubs are required under Club Maith to have representation at this event and we would recommend that each club sends at least 4 delegates.  Registration is vital for this event and people should contact Sharon Haughey on 02837517180 or email sharon.haughey.ulster@gaa.ie