Down and Armagh Coaching Initiative for Hurling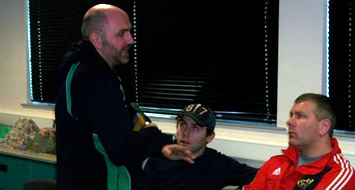 On Saturday 5th November 25 coaches from Armagh and Down (along with a few visitors from Antrim and Derry) took part in the first day of a joint hurling coaching initiative organised by the two counties.  The course was aimed at coaches working with development squads, county minors and seniors and was organised by Regional Hurling Development Officers for the two counties – Michael McCullough and Rónán McWilliams – and held at the Abbey Grammar School, Newry.  The first day involved some video analysis with the coaches being split into groups and watching a couple of recent inter-county games.  This prompted some very interesting discussion between those attending the course and guests Gregory O'Kane and Dave Kennedy (members of last year's Antrim Senior Management set-up).  The groups of coaches were allocated teams from the games and it was their job to identify strengths and weaknesses of both themselves and their opponents in the run up to half time.  Then as a management team they were asked what would be discussed at the half time break?  What they were doing well?  What changes they could make to address certain problems?
A number of issues e.g. poor movement in the forward line, not winning enough breaking ball, failure to take responsibility in front of goal were raised and while the management teams could talk about these at half time, they wouldn't get the opportunity to really work on these problems until the next training session.  This formed the basis of the second part of the day when the coaches would be given a problem as a group and the challenge for them was to address this on the training pitch.  Slaughtneil minor hurlers travelled across to take part in this session as part of their preparation for the Ulster Minor Club Championship and they were put through their paces by the different coaching groups.  Cork stars Diarmuid O'Sullivan and his brother Paudie were on hand to lend some advice to both the players and coaches in the afternoon session.  These sessions promoted some excellent discussion afterwards, and the feedback from this ultimately set out the itinerary for the second part of the course on Saturday 26th November.
The second day began with three practical sessions – Defensive Play (Michael McCullough and Mattie Lennon), Winning Dirty Ball (Rónán McWilliams and Gavan Duffy), Attacking Play (Dave Kennedy and Gregory O'Kane) – and coaches were encouraged to observe the three different sessions and note the different coaching styles.  60 players from Down U16 and U17 Development Squads were available for these sessions.  The observing coaches were asked not to focus too much on what was being delivered, but why certain methods were being used? and how the 6 coaches delivered? and how they interacted with the players?
The players were then split into four teams and they were allocated four management teams from the coaches in attendance.  They played two matches each and the coaches were encouraged to make live changes as they saw fit.  During the games different problems arose – teams were subjected to playing with a man less / extra, two men inside forward lines were used, an extra defender put in – and the coaches had to think on their feet to counteract these.  Unfortunately, the heavens absolutely opened for the duration of this and the final part of the day – where the coaching teams got to work on the problems their respective teams faced as part of a coaching session – had to be shelved.  However, in a short feedback session after the matches, all coaches were very keen to come back after Christmas for another chance to complete this.  This exercise has been very fruitful in that it has become a forum for a group of coaches from different counties to discuss different coaching methods and their approaches to different situations.  The fact that these same coaches were contacting each other prior to the second day in order to prepare for their sessions was fantastic and Down Coaching Officer, Seamus Ennis was very impressed by the exercise in his closing comments on day two.