Hurling Workshop to Develop Coaches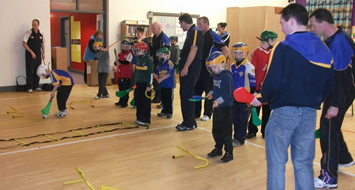 A Hurling Nursery Workshop was held recently as part of Ulster Council GAA Coach and Volunteer Development Programme. Coaches from St Ergnats GAC , St Mary's Rasharkin , Clooney Gaels and Roger Casements/Geraldines attended on the night.  19 coaches in total took part with the 16 children who came along to help out on the night .
Areas covered on the session included skills stations, using balloons with the hurls, sliothar on a pole and mini games like The Road to Croker.
Thanks to Principal Miss Maria Murray for use of facilities and for providing refreshments for the children after their hard work.
Future Coach and Volunteer Development Programmes can be view on the Ulster GAA Wallplanner which is available FREE by contacting sharon.haughey.ulster@gaa.ie