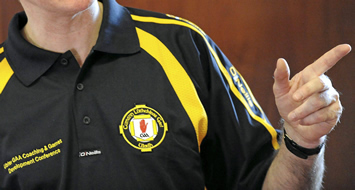 Ulster GAA in partnership with OCNNI will be running a Level 3 Diploma in Team Management for Gaelic Games in February 2012. This Diploma Course in will be pitched at the same difficulty and complexity as A-Level or Leaving Cert. The objective is to reward the hard work undertaken by many volunteers in clubs and schools and provide them with the opportunity to bring this into a formal qualification. In times of economic hardship and unemployment, the GAA Club environment can help people develop new skills and competencies that they can use when seeking employment.
Our long term vision is to have a number of mandatory units / modules that we Ulster GAA offer our volunteers. These will build into certificates in respective areas. If the volunteer over time takes a number of these they can begin to build a qualification at level 3 / 4 by taking these mandatory modules and then by accessing further optional modules that exist within the Qualifications Credit Framework. This we envisage would potentially build into a "Degree in GAA Related Studies".
Ulster GAA Team Management Programme
This programme is being delivered at the request of coaches who have made the transition from coach to manager. It recognises that coaching and managing have significant similarities but it also recognises that they are different. The series of workshops will take the coach/manager through a programme that will help explore the critical managerial areas to help develop understanding, competencies and abilities to apply critical thinking, problem solving and decision making skills.
This interactive programme is being delivered by GAA and Coaching Ireland Qualified Tutors and practicing managers and the subject areas will evolve around the following topics. This programme provides the basis to build further qualifications that are currently being delivered to volunteers. See table below:
| | | |
| --- | --- | --- |
| Mandatory | GAA Sports Management | Credits (36 – 40) |
| Unit 1 | Making Plans and Decisions in Sports Contexts | 10 |
| Unit 2 | Building Team Success | 10 |
| Unit 3 | Managing Change and Conflict | 10 |
| Unit 4 | Role of the Manager in the Sports Context | 10 |
It is envisaged that candidates applying for these two courses will need to have a minimum of Award 1 and be actively involved with their adult club, college or county team. See application form below.
Related:
– Level 3 Diploma in Team Management Application Form