Santa Comes Early for P1 Children in County Down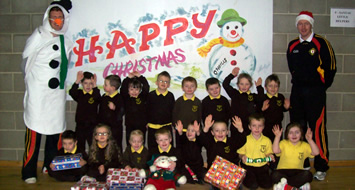 Down DENI Coaches organised a series of Christmas FUNdays in Kilkeel, Belfast, and Banbridge over 3 days. There were 400 primary 1 children who participated in a series of Fundamental stations.
These stations were all Christmas themed based such as twinkle toes, candy lane, and pull the cracker. All of these events covered Agility, Balance, Co-ordination, Running, Jumping, and some Catching and Striking games. It was a huge success and each hall was decorated like a winter wonderland with each child presented with a gift for their participation.
The highlight of the event was Frosty the Snowman and a special guest appearance from Santa himself.
Special big thanks to the Primary 7 elves from various schools that assisted the P1 children in each activity. Christmas music was also played out over a sound sytem to enhance the Christmas theme and was also an indicator to the children for starting/stopping the next station.
"What a fantastic day. This event was well planned and organised with a fun element to all the stations. Many thanks to all the Ulster Council coaches who made the day possible and for making it such a special occasion for all the children that attended."
Mrs Jackson. Primary 1 Teacher. Magheralin Village P.S.
"Such an enjoyable day had by both children and the teachers. A credit to all the coaches for a very well organised and fun event. The smile on the children's faces said it all, and Santa making a guest appearance topped off a fantastic day."
Miss Haughian. Primary 1 Teacher. Glassdrumman P.S.
"A fantastic day had by all. The Ulster Council staff really pulled out the stops to ensure each child had a Christmas experience that they will always remember. Looking forward to next year already."
Mrs Owens. Primary 1 Teacher. St. Michaels Ravenhill
These events were a huge success and would not have been possible due to the planning, organisation and dedication of all Down Department of Education Coaches who include: Ciaran Murtagh, Lisa McAliskey, Macartan McKenna, Garreth Thornton, Catrina Rodgers, Gavin McGilly, and Amy Cunningham.
Down DENI coaches would like to wish all our fellow Gaels a very Merry Christmas and a Happy New Year.