Ulster GAA Referees Awards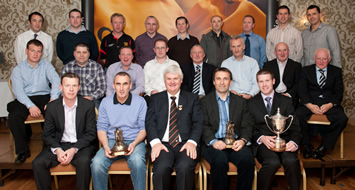 Ulster GAA held its Referee Awards recently at the annual Ulster GAA Christmas Dinner in the Four Seasons Hotel in Monaghan. The Awards were made to mark the contribution of inter-county referees involved with the Ulster Council.
The Referee Awards were presented to Referees who had in 2011 been in charge of National Finals, Oversees competitions, Ulster Provincial Championship games and League games.
Speaking at the Awards Ceremony Ulster GAA President Aogán Ó Fearghail said, "We all know that referees have the toughest job on the field. You can't keep all of the people happy all of the time but I am very proud of our referees in Ulster and the good work that they do. The games simply could not happen without them. And regardless of whether people agree with individual refereeing decisions or not, everyone within this Association should acknowledge and respect the very vital role our referees play.
"It's always great to have Ulster men and woman represent the GAA across the world and this year we had a significant number of referees in charges of games across the globe – in Scotland, in Canada, in Boston and in Bahrain. This shows the appeal of our games across the world and its with great pride that Ulster Referees play a part in that.
"It's also great to see two Ulster men in charge of the GAA's biggest games of the year – Joe McQuillan from County Cavan was the man in charge at the All Ireland Senior Football Final in Croke Park while Armagh's Padraig Hughes refereed the All Ireland Minor Football Championship Final. This was a great honour for the two men, for their families, their clubs and for this Province.
"I thank all our referees in keeping our players and games in check and I look forward to another good year for refereeing in Ulster."