Ulster Ladies Gaelic Annual Presentations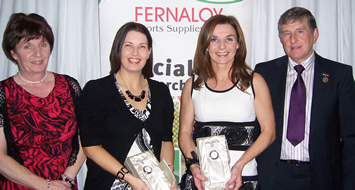 At the Ladies Ulster Council annual Christmas dinner held in Kelly's Inn recently presentations were made to the Ulster Club Volunteers of the Year and the Ulster PRO of the Year.
The recipients of the Ulster Club Volunteer of the Year were Martina Dillon and Caroline Mc Grath from the Aodh Ruadh club in Dungannon. The inspirational duo were instrumental in setting up the club while only 17 years of age. Eighteen years later and they are still heavily involved and have as much enthusiasm today as they they had back in the early 90's. The pair have held every position possible within the club and have also played, coached and managed. Speaking at the awards Mary Keegan, Ulster Secretary said "The nomination form for our volunteer of the year was four pages long such was their level of their involvement in their club.  Thanks to their tireless work over the years hundreds of girls in the Dungannon area have been given the opportunity to take part in our game, and for that our association would like to thank them."
The Ulster PRO of the Year was presented to Monaghan's  Brenda Mc Anespie. New to the PRO position in Monaghan in 2011 Brenda took on the role with gusto providing notes, match reports and pictures to the relevant media outlets on a regular basis.  She has helped raise the profile of ladies football in the Farney County and we since she has just been elected back into the role for 2012 have no doubt that she will do the same next year.
The awards were presented by Ulster Presidnet Hugh Devenny and were sponsored by Yvonne Morgan of Fernaloy Sports Supplies, Madden, Armagh. To find out more about Yvonne's business check out www.gaelicdirect.com
Pictured is the Ulster President Hugh Devenney presenting Martina Dillon (second left) and Caroline McGrath from the Aodh Ruadh club in Dungannon with their Ulster Volunteer of the Year awards along with sponsor Yvonne Morgan of Fernaloy Sports Supplies.