Ulster President's Awards 2011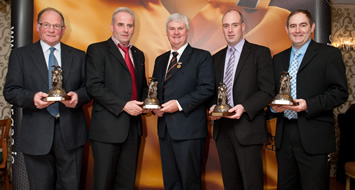 Ulster GAA President Aogán Ó Fearghail has honoured a number of Ulster GAA Volunteers by presenting his annual President's Awards in the Four Seasons Hotel in Monaghan.
There were four recipients of the President's Awards:
Tony McCaffrey – This man has dedicated a lifetime to the affairs of the GAA in general and the Ulster Vocational Schools in particular. Since emerging as a teacher in St Patrick's, Omagh in the mid sixties where he assisted with the school teams, he then moved to St Aidan's, Derrylin, assisting the Fermanagh Schools in their infancy as members of the Vocational Schools. Making the natural progression to the Ulster Vocational Schools' Executive, he has served on it for almost the past thirty years, the vast majority as Secretary. Tony McCaffret has been an ever present at the All Ireland Executive, representing the views and requirements of the schools in Ulster. He has left shoes that will be hard to fill and a legacy that will stand the test of time.
Aodh Mairtin O Fearraigh – has been involved in administration within his county for a number of years. He took on the role of Assistant Secretary of the County Board before being elected as An Runai at the end of 2009, and he will once again return unopposed as County Secretary next week.
A fluent Irish speaker and a former secretary of his native club Gaoth Dobhair, he is currently a newsreader with Radio na Gaeltachta. His excellent administrative skills allied to his strong work ethic, he has become an integral part of Donegal GAA.
Martin Mullan – From the John Mitchells club in Glenullin has been a member of his local club all his life. After his playing days were over he took on the role of Chairman which he has held for 20 years. He believes very much in the community aspect of the association and has been the driving force behind the club development. As well as progressing the physical development of the club he takes a 'hands on' approach with the teams helping with transport at underage and will always be found at a post doing umpire at all games from Under 14 up. He also has a great passion for and promotes Scor within the club and county. He is an exemplary leader who leads from the front.
Fiona Shannon – This talented West Belfast player has had another very successful year on the handball court both at home and abroad. She won the Ulster 40×20 Singles & Doubles Championship titles back in March and she followed this up with winning the 40×20 Senior Singles Irish National title in May. This resulted in her being the Irish representative at the US Nationals were she maintained her 100% record on the International scene in recent years when she picked up the Singles and Doubles titles.