Airtricity Children's GAA Health Booklet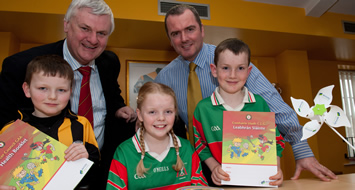 Ulster GAA have announced Airtricity as sponsors of their Children's Health Booklet. 12,000 children across the Province will benefit from the resource which has been developed to encourage healthy lifestyles at a time when childhood obesity is on the increase.
Uachtarán Comhairle Uladh Aogán Ó Fearghail speaking at the launch in Armagh said "We are delighted to make this resource available to schools across Ulster. It will undoubtedly have a positive impact on children's health and wellbeing, in addition to enhancing curriculum teaching in this important area.
"I am particularly proud of the fact this resource is available in both English and Irish, ensuring that all Children who participate in our coaching programmes have an opportunity to be involved and learn in the language by which they are normally taught. It is also very pleasing to have Airtricity onboard as sponsors and I look forward to a long relationship with them in this programme."
David Mulqueen, Sports Lighting Manager, Airtricity noted "AIRTRICITY UTILITY SOLUTIONS (Sports Lighting Division) and AIRTRICITY ENERGY SUPPLY are extremely proud and honoured to be associated with the Ulster GAA Children's Health Booklet 2012. We, at AIRTRICITY, have a long history in supporting our younger generation and schools in particular. And with AIRTRICITY UTILITY SOLUTIONS now entering the Sports Floodlighting industry, we hope to form a long lasting relationship with Ulster GAA".
You can download the Children's Health Booklet below:
– Ulster GAA Kid's Health Booklet
– Ulster GAA Kid's Health Booklet As Gaeilge