Derry First U6 Hurling Blitz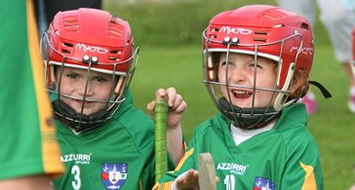 On Wednesday 8th August Derry hosted their first ever under 6 hurling blitz in Owenbeg. 8 clubs in all took part with almost 100 children ranging from 3 to 6 years of age getting their first taste of hurling action. The evening was very enjoyable for all the parents, coaches and players involved. There was some great hurling on show during the blitz which was punctuated by lads twirling around, running to the toilet, scoring own goals and taking off mid match to talk to proud family members on the sideline! This all added to the fun of the evening and everyone left with smiles on their faces.
The fact that 8 clubs in the County were able to field teams on the night is testament to the work that is going on to develop hurling at underage level within the clubs. It was also very noticeable that even these very young children are been coached properly with a majority of the children displaying the correct grip and swing technique which is key at this early stage of development. With all the clubs putting in this effort Derry is sure to reap the rewards in the future.
Well done to all the clubs, parents, coaches and players who took part.