Ulster GAA Official Charities 2012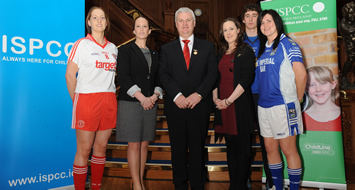 ISPCC and Ulster GAA
The ISPCC, just like the Ulster GAA has a great history of working in local communities, building important and lasting relationships & raising funds in local communities.
The ISPCC, are delighted to have been chosen as the joint Charity of the Year of the Ulster GAA.
While the ISPCC receives approximately 10% funding, Childline, our phone listening service, receives absolutely no government funding at all. It is through the generosity and support of the public and through partnerships such as this one with the Ulster GAA that we can continue to ensure that we are here to help children in need all over Ireland.
The NSPCC & Ulster GAA
The NSPCC aims to end cruelty to children by fighting for their rights, listening to them, helping them when they need us and making them safe. Through our work which is largely funded by public donations, children and young people are better informed, better cared for and better protected.
We are delighted to have been chosen along with ISPCC as the joint charity partner for the Ulster GAA. Like the Ulster GAA, NSPCC Northern Ireland works within local communities with local children and their families, raising vital funds to continue our work.
Every year the NSPCC spends over £4 million helping children and young people in Northern Ireland through a variety of services including therapeutic work to help children move on with their lives after sexual abuse, support for young witnesses, and ChildLine, the NSPCC's free 24 hour helpline for children and young people in need of help. This would not be possible without the support of dedicated individuals, local businesses and groups and organisations like the Ulster GAA. We believe that ending cruelty to children is everyone's business and are proud to say that, together, the Ulster GAA, ISPCC and NSPCC are protecting the fans of the future.
Working Together
There are many ways for you and your club to get involved with the NSPCC & ISPCC and help raise much needed funds.
Volunteer – The NSPCC & ISPCC regularly needs help with local fundraising for events such as Church Gate Collections. Flag days, bag packs and more – or if you want to hold your own event in aid of the ISPCC/NSPCC  that is great too.
Organise your own event! – Hold a coffee morning, quiz or raffle in aid of NSPCC/ISPCC and we can provide collection buckets, balloons, posters and everything you might need to make your event a success.
Mournes HACK (Hike Against Cruelty to Kids) – Pull on your hiking boots and take to the breathtaking Mourne Mountains to help end cruelty to children. Our 14 and 20 mile challenge walks in association with SPAR take place on Saturday 15 September 2012. Check out nspcc.org.uk/mourneshack for more information. We also need volunteers on the day so if you don't fancy the full walk but would like to be involved, please get in touch to be part of this fantastic event.
Cheerios Childline Breakfast Together Week –  Taking place this October 8th – 14th, the Breakfast Together Week is a great chance for your club to come together and host a fun event where adults and children can raise funds for the NSPCC & IPSCC. You can make your breakfast as big or small as you want. Why not ask everyone to bring something – like muffins, pastries, cereals so everyone is involved. We would ask that everyone taking part would make a €2 donation to the ISPCC. To register for this fun event, log onto www.childlinebreakfast.ie  or call 1850 50 40 50
Letter from Santa – For a suggested donation of £5, Santa can write a magical letter to children, family members, friends and any other big kids you know! He even writes special Baby's First Christmas letters, the perfect keepsake for newborns.
Holly Days Every December in the weeks before Christmas, we sell Holly Badges all around the country. Will your club take a box or two of pins to sell? You could sell them in your club or to family and friends? Or if you have a group of people
Feeling Fit? – Why not take part in one of the many running, cycling or other physical challenges around the country. The NSPCC & ISPCC are the official charity of the Dublin City Marathon for 2012 & when you register to take part in the event we will send you out a TEAM ISPCC fundraising pack which includes a technical running shirt. O why not sign up for the Belfast Telegraph Runher event for ChildLine which takes place on Sunday 7 October by visiting www.runher.co.uk. When you register to take part in an event we will send you out our own NSPCC fundraising pack and support you all the way.To get involved in any of the events on behalf of the ISPCC please contact Orla Kerbey on 1850 50 40 50. Visit our website at www.ispcc.ie
To get involved in any of the events on behalf of the NSPCC please contact Clare Galbraith on 028 9035 1135. Visit our website at www.nspcc.org.uk