Call to Support Match for Michaela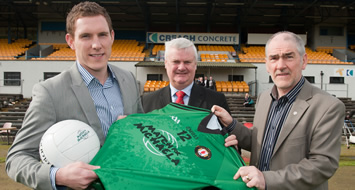 Please see below an open letter to all GAA Clubs in Ulster:
Rúnaí A Chara,
As you are aware Ulster GAA in partnership with the Michaela Foundation are organising a significant milestone event on Saturday 3rd November in Casement Park, Belfast when, for the first time ever, we will have a match between the All-Ireland Champions and the Inter Provincial Champions. The fact that it is two of our teams, Donegal and Ulster, that hold both titles makes this all the more meaningful.
All proceeds from this game will go the Michaela Foundation. The Foundation was established to ensure that the values by which Michaela McAreavey lived should live on and that young people should be supported and encouraged to succeed in life, fulfilled andhappy, with faith, confidence and fun as their foundation. The Michaela Foundation has a clear vision of its way ahead and has alreadyput in place two flagship programmes, a Student Awards programme and a Michaela Girls Summer Camp. The Foundation also has plans to build a Michaela Centre.
We plan a competitive match and a special and entertaining night on 3 November. We are confident this will showcase Ulster GAA and every part of it at their best. We appeal to every GAA; LGFA; and Camogie Club in Ulster to come along; to bring your youth members;to wear your Club colours; and to represent your community at this special event with pride.
This is a one-off event. But it is a special and meaningful way of supporting an important cause and responding to something that very deeply affected us all. We would ask for this correspondence to be discussed at your next Club Committee meeting and ask you to include the ticket information in your club notes from now to the game. This would really help as it is the key piece of communication with your members.
Tickets cost £10/€10 for an adult and £5/€5 for a child: they can be purchased on line at www.themichaelafoundation.com or www.gaa.ie or are available from your County Committee Offices.
We look forward to seeing you on the 3rd of November at the 'Match for Michaela.'
Living Life Without Limits
Is Mise Le Meas,
Aogan O'Fearghail
President- Ulster GAA
Danny Murphy
Director and Secretary Ulster GAA