Double Delight for Ulster Ladies
Ulster Ladies recorded a superb double victory at Croke Park on Sunday as Antrim won the Junior Final with victory over Louth before Armagh defeated Waterford in the Intermediate decider.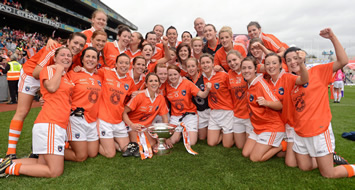 TG4 Ladies' All Ireland Intermediate Final
Armagh 1-12 Waterford 1-5
Despite kicking twenty one wides Armagh claimed their second All Ireland intermediate title with an excellent win over Waterford. James Daly young side stood up to a more experienced Diecies outfit and were good value for their seven point victory.
It was Waterford who opened the scoring when Michele Mc Grath pointed with their first attack. Armagh then kicked five wides before Shauna O Hagan goaled in the eighth minute. The Clann Eireann forward reacted quickest to a ball which came of the post to slot home past Aimee Jordan. Fionnuala Mc Kenna and Marion Mc Guinness then added further points before Hannah Landers found the net for Waterford in the twentieth minute. This however was to be Waterords last score of the half while Armagh went on to add three additional points. Scores from Kelly Mallon, Mags Mc Alinden and Shauna O Hagan helped the orchard girls to a 1-5 to 1-1 interval lead.
Waterfords Linda Wall pointed with the first attack of the second half but that score was quickly cancelled as Kelly Mallon fired over shortly after. Fionnuala Mc Kenna, Caroline O Hanlon and Niamh Henderson then added points to extend the orchard lead even further. Michelle Ryan pulled one back for the Munster champions but once again Armagh responded, this time the captain Mc Alinden obliging.
Waterford then had a let off as Shauna O Hagan's rasper came back of the crossbar. Further points were exchanged by Ryan and O Hanlon but Armagh still had the upper hand. Waterford refused to lie down and added another point through Linda Wall. With ten minutes to go and six points down they were thrown a lifeline of a penalty. Michelle Ryan kicked poorly and Catherine Mc Alinden got her foot too it to prevent the goal. The orchard keeper was called into action a couple of minutes later as she pulled off another great save. In the dying seconds Armagh were awarded another free and it was fitting that the brilliant Caroline O Hanlon fired over to seal victory and secure senior football for a very talented orchard side.
Laura Brown who was named player of the match was in jubilant mood afterwards. "This is brilliant, I'm in shock. We knew ahead of the game that they had two big forwards and that we had to stand up and be counted and we did. This is unreal", said the Clann Eireann full back.
Team manager James Daly was full of praise for his side. "We might have missed a lot of scores out there but we were dominant. I told the girls at half time to just keep shooting. Our defence was rock solid, we have a lot of unsung heroes and we deserved this All Ireland", said the big Dromintee man.
Armagh – C. Mc Alinden, C. Mc Cann, L. Brown, S. Marely, S. Reel, N. Marley, N. Henderson (0-1), S. Mc Cleary, C. O Hanlon (0-2), M. Mc Guinness (0-1), M. Mc Alinden (0-3), F. Mc Kenna (0-2), C. Lennon (0-1), S. O Hagan (1-1), K. Mallon(0-1)
Subs Used – A. Hughes, S. Mackle, M. Tennyson, C. Duffy
Waterford – A. Jordan, A. Landers, K. Mc Grath, N. Dunphy, R. Tobin, G. Enright, M. Wall, M. Mc Grath (0-1), E. power, L. Wall (0-2), M. Ryan (0-2), T. Fitzgerald, A. Wall, S. Curran, H. Landers (1-0)
Subs Used – E. Fennell, M. Revins, G. Kenneally
Referee – Pat Kehoe (Carlow)
—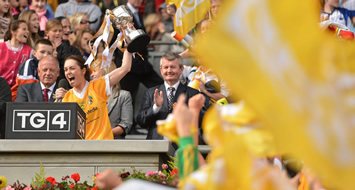 TG4 Ladies' All Ireland Junior Final
Antrim 3-9 Louth 0-7
A hungrier Antrim side lifted the All Ireland junior title with a superb performance in Croke Park yesterday. Brian Coyles young charges led from start to finish and were thoroughly deserving of their eleven point victory.
After a slow scrappy start Antrim opened the scoring with a Mairead Cooper point in the ninth minute. The St. Pauls player collected a lovely pass from the busy Clare Timoney. The Saffrons should then have extended their lead but Timoney dropped an easy free into the arms of Louth keeper Una Pearson. Three minutes later and Anna Finnegan was brought down by Pearson. Referee Seamus Reagan sin binned the wee county net minder and seventeen year old Kirsty Mc Guinness expertly scored the resulting penalty. Timoney then made up for her earlier miss as she slotted over a close in free. Things got even better for Antrim in the eighteenth minute when full forward Anna Finnegan collected a lovely pass from Mairead Cooper and fired past Louth's sub keeper Kelly Cunningham to give her side an eight point lead.
Louth's first score of the game arrived late in the half courtesy of midfielder Sandra Lynch. Catherine Mullan and Jenny Mc Guinness then traded points to leave the half time score 2-3 to 0-2 in favour of Antrim.
Antrim added the first two points of the second half through Anna Finnegan and Clare Timoney however these were quickly cancelled by a couple of nice scores from the wee counties Ann Marie Murphy and Kate Flood. Timoney and Lisa Kelly then traded further points. Louth now rallied and launched a number of attacks however the Antrim defence stood firm and on the occasion it was breached the brilliant Ciara Mc coy stopped everything that came her way. Antrim substitute Maeve Mc Curdy then fired over a brace of points before Louths Susan Byrne pointed. There was now eleven minutes left and Antrim were dealt a mini blow as Mairead Cooper was sin binned. Then Louths Sandra Lynch hit her sides last point but the final say of the game went to Kirsty Mc Guinness who drilled her second goal past a stranded Una Pearson.
A delighted Brian Coyle said afterwards, "I can't put into words what this means. It is truly amazing. Louth didn't turn up today but our girls were hungry. The hard training and the early to bed nights have all paid off". He also had a nice word about his keeper and player of the match Ciara Mc Coy. "There is no better keeper in Ireland", added Brian.
Antrim – C. Mc Coy, B. Scullion, E. Kelly, S. Haughey, C. Mc Hugh, N. Kelly, A. Tubridy, C. Mullan (0-1), G. Mc Cann, C. Carey, K. Mc Guinness (2-0), C. Timoney (0-4), A.Mc Atamney, A. Finnegan (1-1), M. Cooper (0-1).
Subs Used – M. Mc Curdy (0-2), N. Copper, D. Mc Ateer, R. Fulton
Louth – U. Pearson, A. Lynch, A. Carney, A. Mc Gee, M. Mc Mahon, M. O Connell, P. Mc Mahon, G. Lynch, S. Lynch (0-2), L. Kelly (0-1), A. Murphy (0-1), C. O Connor, R. Heeney, K. Flood (0-1), J. Mc Guinness (0-1)
Subs Used – K. Cunningham, V. Mc Ginn, S. Byrne (0-1)
Referee- Seamus Regan (Roscommon)