Ulster's 'Titanic' Teams – Antrim 1912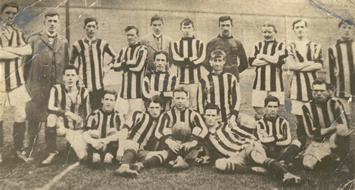 Comhairle Uladh CLG / Ulster Council GAA is pleased to announce an event to celebrate one of the most distinguished set of players in Ulster Gaelic games history, in the Titanic Building, Belfast, on Thursday 29 November. The 'titanic' Antrim football teams, which uniquely played in two separate All-Ireland football finals in 1912, warrant special recognition, on the occasion of the centenary of their achievements, for reasons such as the following:
They were the first from Ulster to reach All-Ireland finals.
They were the first county teams to play in two separate All-Ireland finals in one year (excluding replays) – because the 1911 final was not played until January 1912 – and remain the only county to hold this record.
Antrim's victory over Kerry in the 1912 All-Ireland semi-final (3-5 to 0-2) was the biggest inflicted on 'the Kingdom' in an All-Ireland series match until 2001.
They won five Ulster Senior Football Championships in a row between 1908 and 1913; previously this was claimed to be six in a row, but no championship was contested in 1911.
They won those Ulster titles despite playing nearly all of their matches away from home
Despite winning the five consecutive Ulster titles, the players did not receive any medals at that time, due to the impoverished state of the Ulster Council. Strangely, however, when Monaghan won the Ulster football and hurling championships in 1914, they were awarded medals straight away (a decision which caused outrage among Cavan and Antrim officials). The Antrim players of 1908-13 finally were eventually presented with one set of medals, inscribed for the years 1908-13, at a ceremony in 1927.
The teams were drawn entirely from Belfast clubs (most of which no longer exist), though some of the players were natives of other counties. It was said then, sometimes critically, that they played with a soccer style; several of them had played for soccer clubs, which might explain why one of them ('W. Williams') played in the 1911 final under a pseudonym.
One of the players, John Mitchel Darby, was a (non-Catholic) native of Liverpool who came to Belfast in 1907, worked as a teacher of navigation on Dock Street, served as secretary of the South Antrim Board of the GAA and as a prominent referee, and died suddenly in October 1912, a month before the second All-Ireland final; he was buried in Milltown Cemetery.
In order to facilitate the presentation of medals to family representatives, relatives of the players listed below are requested to contact 028-37517180 or 07435-769095 or donal.mcanallen.ulster@gaa.ie urgently:
Seaghan an Díomais: Harry Sheehan, Tim Sheehan, J. H. Mulvihill, Hugh Kane, John Mitchel Darby, James Murphy, Patrick Barnes, William McAreavey.
Ollamh Fodhla: Charles McCurry, Peter Moylan, P. L. Kelly, Louis Waters, John Mitchel Darby, Joe Fegan.
Sarsfield's: Seán Coburn, John Healy, Edward Ward, M. Maguire, W. Goggan, Michael Hughes
Vintners: J. Monaghan.
Cuchulainn's: Peter Meaney.
John Mitchel's: Eddie Gorman, Joseph Mullan, William Manning.
Clonard Harps: Joe Gallagher.
Other: 'W. Williams' (pseudonym), Phil Gallagher, Hugh Mallaghan, Patrick Downey, ?? Lynch, Martin McDonagh, James Hamill, William J Donnelly, Tom Murphy, Fred Vallely, Pat Hayes
Jim McCrealey, Barney Vallely, William Wright, ?? Brennan, William Mulholland, William Lennon, P Burns, Con O'Ryan, B Hamill, Billy Martin, W McCavanagh, J Magowan, Bob Reid, Dan Dempsey.
Anyone else who wishes to attend is requested to make contact at the above numbers or address by Thursday 15 November, as space is limited.