Cross collect 10th Ulster Title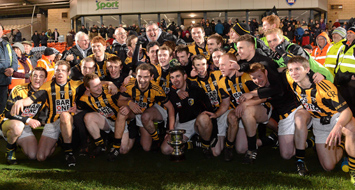 AIB Ulster GAA Football Club Championship Final:
Crossmaglen Rangers (Armagh) 3-9 Kilcoo (Down) 1-9
Crossmaglen's three-in-a-row All-Ireland bid continued on Sunday as they defeated Kilcoo in the Ulster final, picking up their 10th provincial title since 1996 in the process.
It was their third Ulster title in a row, the second time they have won three provincial titles in a row in their recent history. They have now won six of the last seven Ulster titles.
The Armagh champions had been reduced to 13 men by the end of an absorbing game, but they were still in complete control in the closing stages, having staved off a spirited second half comeback from Kilcoo.
Crossmaglen made the best possible start to the game, grabbing two very early goals to lead 2-1 to 0-0 after just five minutes.
The evergreen Oisín McConville, who won his tenth Ulster medal today, struck the first from the penalty spot, before Aaron Kernan followed up with the second goal.
That start left Down champions Kilcoo absolutely stunned, and Crossmaglen continued to plunder scores in the hazy aftermath, Stephen Kernan, McConville and Kyle Carragher all adding to their lead.
Kilcoo rallied somewhat before the interval, but the lead at half-time was a forbidding one, as Crossmaglen went in 2-6 to 0-3 at half-time.
However, just when it looked as though the second half would be yet another procession for the all-conquering Crossmaglen, Kilcoo made a real game of it with a plucky comeback. Donal Kane and Darragh O'Hanlon landed points,and suddenly the gap was down to seven.
Then a brilliant, sweeping move from Kilcoo ended up with forward Conor Laverty superbly flicking a ball over his head and into the path of full forward Anthony Devlin, who finished to the net to leave just four points in it.
Laverty's pass had bamboozled the Cross defence, and suddenly it was game on. Michael McNamee then received a red card for Crossmaglen, and another O'Hanlon free left just three points in it, and a numerical advantage to Kilcoo, with 15 minutes left.
But as has happened so many times before, when the championship minutes ticked on, the Crossmaglen machine cranked into gear. Points from Martin Ahern and McConville stemmed the tide for the All-Ireland champions, and they began to dominate a tired Kilcoo for the closing stages.
Although Jamie Clarke's second yellow meant they were down to 13 men for the final few minutes, Kyle Brennan's goal seconds later put the seal on the win for Crossmaglen. Brennan was left to tap into an empty net after brilliant work by McConville.
Crossmaglen Rangers
Record Breakers
All Ireland titles: 1997, 1999, 2000, 2007, 2011, 2012
Ulster titles: 1996, 1998, 1999, 2004, 2006, 2007, 2008, 2010, 2011, 2012