Down Schools Christmas FUNdays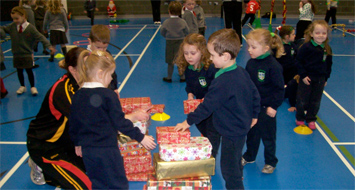 Christmas really did come early with a series of Christmas FUNdays throughout County Down. Down DENI Coaches organised these special events in magical winter wonderlands in Castlewellan, Belfast, Portaferry and Newry over 4 days. There were 600 primary 1 children who participated in a series of Fundamental stations that really brought Christmas to life.
These stations were all Christmas themed based such as twinkle toes, candy lane, Santa's sleigh, and pull the cracker. All of these events covered Agility, Balance, Co-ordination, Running, Jumping, and some Catching and Striking games. There was also an educational theme to some stations with P1 children having to work together and problem solve different activities. It was a huge success and each hall was decorated like a winter wonderland with each child presented with a gift for their participation.
The highlight of the event was Frosty the Snowman and a special guest appearance from Santa himself. Santa sang 'jingle bells' with all the children and told them to be in bed very early on Christmas Eve, and left with his reindeers and flew back to the North Pole to prepare all the children's presents for Christmas.
Special big thanks to the Primary 7 elves from various schools that assisted the P1 children in each activity. Christmas music was also played out over a soundsytem to enhance the Christmas theme and was also an indicator to the children for starting/stopping the next station.
"Even though it was a fun day it was well organised and structured. The activities were very well thought out in relation to the Christmas theme. The smile on the children's faces said it all and it was a great start to our Christmas celebrations."
Mrs Clare Quinn. Primary 1 Teacher. Ballyholland P.S.
"The Primary 1 children from St. Ita's had a wonderful day of physical activities arranged by you and your fellow coaches of the Ulster GAA Council, at the recent Christmas Fun-Day in Queens PEC. You all deserve great credit for the management of a superb event that has got everyone in the Christmas spirit. Many thanks for all the hard work and effort put into this, and we wish you a Merry Christmas and look forward to seeing you in the New Year."
Mrs Malone. Primary 1 Teacher. St. Ita's P.S. Belfast
"Just a short email to say thank you so much for a great day! The children have raved about it all afternoon! The whole morning was so well organised, with all children knowing exactly what they had to do at each station. Everything was totally suitable and at their level, which made the whole thing a great success. They loved it! – and Santa coming was just the icing on the cake!"
Mrs Toner. Primary 1 Teacher. St. Ronan's Newry
"The Christmas Funday at St Malachys Castlewellan was enjoyed by all who attended providing them with a physically active fun environment and all the activities gave the kids a challenge. It was obvious a lot of time and organisation went into making this day the huge success it was and I would like to commend Ulster Council coaches for such a great day out."
Mrs Catherine Blaney.P1 Teacher. Christ the King Drumaness
These events were a huge success and would not have been possible due to the planning, organisation and dedication of all Down Department of Education Coaches who include: Ciaran Murtagh, Lisa McAliskey, Macartan McKenna, Garreth Thornton, Catrina Rodgers, Gavin McGilly, and Amy Cunningham.