Gaelic Life Ulster Club Officer Training Programme 2013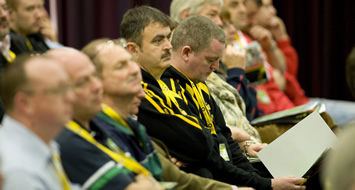 The New Year will see a new round of GAA Officer Training workshops across Ulster to inform club officers of details around latest issues and also to prepare club officers for their roles in 2013.  Over the past three years Ulster GAA has been rolling out a comprehensive Officer Training Programme which has proven to be very popular and useful with thousands of club officers participating in training across all nine counties of Ulster.
In 2013 there are three aspects to the Officer Training Programme, the first is for County Officers and it's a County Officer Network which was piloted last year and feedback was so strong that it is now being arranged as an annual forum.  The County Officer Network will take place on Saturday 12th January focusing on planning ahead for a new Provincial Strategy, and there will be workshops on all five key themes including: Governance, Games, Facilities & Infrastructure, Culture & Heritage and Community Development, Inclusion & Cohesion.  This will be the ideal opportunity for County Officers from across all codes to review these areas of work, to raise any issues or concerns and to help plan for the future.
The second element of Ulster GAA's Officer Training Programme is training for all new club officers.  This will be a one-off Provincial training session to ensure all GAA volunteers new to roles in 2013 will have the necessary information and skills.  This session is also a good networking session where GAA officials get the opportunity to meet with volunteers from other clubs in the same role.  The Club Officer Training for NEW Officers take place on Saturday 19th January.  At this session there will be individual training workshops for Chairpersons, Secretaries, Treasurers, PROs, Development Officers, Coaching Officers, Culture Officers and Children's Officers.  Anyone wishing to avail of this training should register by emailing maura.kelly.ulster@gaa.ie.
Finally, a Club Officer Development Course will once again be held in every county in Ulster to ensure club officers have all necessary information for their roles and tasks in 2013.  This is an important course and is required for Club Maith accreditation.  The half-day session aims to provide club officers with all essential information for the year ahead.  This year the plenary session will focus on the importance of planning within your club and will explore club plans, introducing the One Club model and Securing Club Maith accreditation.  As part of this training session there will also be five workshops: Alcohol and Substance Abuse (ASAP), Communications & Marketing, Securing Funds, Culture and Heritage in your club and Child Protection.  Registration is by emailing sharon.haughey.ulster@gaa.ie and the dates and venues for each county is listed below:
| | | |
| --- | --- | --- |
| Date | County | Venue |
| Wednesday 23rd January | Donegal Club Officer Development Course | Jackson's Hotel, Ballybofey |
| Saturday 2nd February | Tyrone Club Officer Development Course | Loreto Convent, Omagh |
| Saturday 9th February | Fermanagh Club Officer Development Course | St Michael's Enniskillen |
| Wednesday 27th February | Antrim Club Officer Development Course | Edmund Rice College |
| Saturday 2nd March | Down Club Officer Development Course | St Malachy's Castlewellan |
| Saturday 9th March | Monaghan Club Officer Development Course | St Macartan's College |
| Wednesday 13th March | Armagh Club Officer Development Course | Ceannáras, Athletic Grounds |
| Saturday 23rd March | Cavan Club Officer Development Course | Breffni Park |
| Wednesday 27th March | Derry Club Officer Development Course | St Patricks Dungiven |