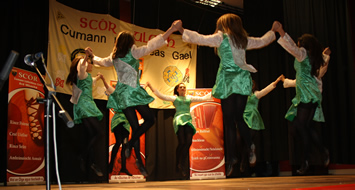 The line-up for this year's Gaelic Life Scór na nÓg Uladh final is now known, following three exciting and well-contested semi-finals at Sabhall, Gleann tSúilí and Béal Átha an Airgid.
An Dún and Tír Eoghain will have the strongest representation, each having five finalists.
The final will take place on Saturday 12th January 2013 at St Cecilia's College, Doire, starting at 5pm, and a packed house is expected.
Rince Foirne / Céilí Dancing
An Chrois Bhán / Whitecross (Ard Mhacha)
Rinn Mhic Giolla Rua / Warrenpoint (An Dún)
An Ómaigh / Omagh (Tír Eoghain)
Ceol Uirlise / Instrumental Music
Droim Thamhain / Drumhowan (Muineachán)
An Lúb / Loup (Doire)
Eochair / Augher (Tír Eoghain)
Grúpa Bailéid / Ballad Group
Carraig a Chrúpáin / Carrickcruppin (Ard Mhacha)
Sabhall / Saul (An Dún)
Gaoth Dobhair (Dún na nGall)
Nuachleas / Novelty Act
Coilleach Eanach (Ard Mhacha)
Caislean Ruairi / Rostrevor (An Dún)
An Ómaigh / Omagh (Tír Eoghain)
Amhránaíocht Aonair / Solo Singing
Emily Shields, An Mullach Bán (Ard Mhacha)
Kathryn Mullan, Sleacht Néill (Doire)
Laura Mulholland, Bun Cranncha (Dún nan Gall)
Aithriseoireacht-Scéalaíocht / Recitation-Storytelling
Colm Kirke, Cluain Eois (Muineachán)
Clodagh McKenna, Suaitreach (Doire)
Caitlín Campbell, An Ómaigh (Tír Eoghain)
Rince Seit / Set Dancing
Crois ar Loch / Crosserlough (An Cabhán)
Rinn Mhic Giolla Rua / Warrenpoint (An Dún)
An Ómaigh / Omagh (Tír Eoghain)
Tráth na gCeisteanna / Question Time
Cor na Féinne / Cornafean (An Cabhán)
Naomh Columba (Dún nan Gall)
An Gleann (An Dún)