Seasons Greetings from Ulster GAA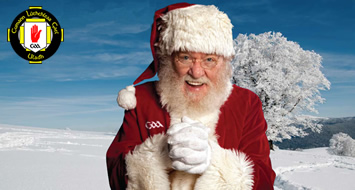 On behalf of Ulster Council, President Aogán Ó Fearghail has expressed his good wishes to Gaels across Ulster for the Festive Period.
Aogán Ó Fearghail said, "I send Christmas greetings to all our members and supporters. May you all have a peaceful, restful and a happy Christmas. Nollaig faoi shéan is faoi mhaise.
Happy 2013. We look forward to another energizing year on the Gaelic fields, beginning with the Power NI Dr. Mc Kenna cCup. Thank you all for your work promoting the GAA. May 2013 be kind to all of us. I wish you all good health and contentment.
Go mbeirimid go léir beo ar an am seo arís."
The Ulster GAA Offices will close at 1pm on Friday 21st December, and will re-open on Wednesday 2nd January 2012.