Young Volunteers to be awarded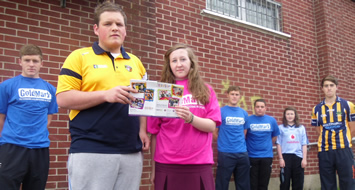 Ulster GAA in partnership with IFA are hosting a GoldMark Awards Ceremony on Tuesday 29th January 2013. This awards ceremony will recognise the achievements of young people aged 14-24 who have been busy volunteering in their Clubs.
Certificates will be awarded to volunteers across 3 levels of award – 50 hours, 100 hours and 200 hours of Excellence. This official recognition from Ulster GAA, Volunteer Now and the Department of Education will acknowledge the range of activities which have been undertake across Ulster in the past 6 months.
Ulster GAA is delighted to be a delivery partner for GoldMark, a programme which has helped develop the skills, confidence and expertise of our young members. The Awards ceremony is certain to be a hugely enjoyable evening of reflection on the magnificent work of this special group of young volunteers. For further information on GoldMark contact sharon.haughey.ulster@gaa.ie