Inter-Provincial Championships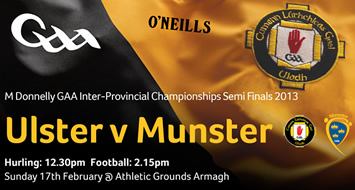 Ulster will take on Munster in both the football and hurling Inter-Provincial Championship semi finals this year, in a fantastic double header to be staged at the Athletic Grounds Armagh.
M Donnelly GAA Inter-Provincial Championships Semi Finals 2013
Ulster v Munster
Hurling: 12.30pm Football: 2.15
Sunday 17th February @ Athletic Grounds Armagh
—
The M Donnelly Inter-Provincial Championships Media Launch for Ulster GAA has been scheduled for Monday 4th February 2013 at 1.00pm in the Wellington Park Hotel, Belfast. Lunch will be provided and the event will be over by 2:30pm.
Ulster managers Gregory O'Kane (Hurling) and Joe Kernan (Football) are continuing their preparations and it is hoped that members from both squads will be in attendance. Football captain Darren Hughes will be present.
Any queries regarding the event should be directed to Ryan Feeney at ryan.feeney.ulster@gaa.ie