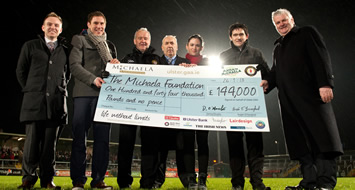 Ulster GAA in association with the Michaela Foundation have raised a whooping £144,000 through the Match for Michaela which took place in November. The fundraising total was officially announced at half time of the 2013 Power NI Dr McKenna Cup Final on Saturday evening. The announcement received a massive cheer from the Tyrone and Monaghan Gaels.
Ulster GAA President Aogán Ó Fearghail said: "We are proud and delighted to be able to hand over this amount of money which will support the ongoing activities of the Michaela Foundation. The Match for Michaela was a very special night that showed the GAA in Ulster at its best. We all have wonderful memories of the organisation and hosting of the event.
"I want to pay tribute to John McAreavey, Mickey and Mark Harte for their continued work both within the Michaela Foundation and the GAA and I would ask the Gaels of Ulster to support their ongoing activities. I want to also thank the Ulster GAA Officers and Staff for their efforts in the organisation of the Match for Michaela in particular Martin McAvinney, Michael Hasson, Oliver Galligan and Danny Murphy and our staff team of Ryan Feeney, Sharon Haughey, Michelle McAleer and Damian Kelly who did outstanding work alongside the Michaela Foundation in the four months leading up to the Match. It's a great achievement for all involved and really proves you can 'Live life without Limits.'"
Thanking all those who supported the Match for Michaela, John McAreavey stated, "Nearly 3 months on from Novembers 'Match for Michaela' event at Casement Park, I still look back at that wonderful occasion and think 'job well done!'. Together with Ulster GAA, we are immensely proud of the success of the night. Packing nearly 20,000 patrons into a GAA ground on a bitterly cold November night is no mean feat and no doubt the rest of organising committee will give testament to that!
"The evening was all about remembering Michaela for the beautiful person she was, remembering her contribution to the GAA and providing an exhibition platform for The Michaela Foundation was the primary objective and I am delighted that we achieved this in such a stylish yet poignant manner."
For further information Contact:
Ryan Feeney: 07920528790
Photo caption:
At Saturday night's Power NI McKenna Cup Final Ulster GAA presents the Michaela Foundation with a cheque for £144,000 raised from the Match for Michaela Ulster vs Donegal on Saturday 3rd November in Casement Park. Pictured Left to Right are Ryan Feeney (Ulster GAA Head of Strategy and MFM Coordinator), John McAreavey (Michaela Foundation and MFM Coordinator), Michael Hasson (Ulster GAA Treasurer), Dr. Danny Murphy (Provincial Director Ulster GAA), Michelle McAleer (Ulster GAA Head of Finance and Treasurer MFM Organising Committee), Mark Harte (Michaela Foundation and MFM PR & Marketing Chair) and President Aogan O Fearghail who Co-Chaired the MFM Committee alongside Mickey Harte.