Sell-out conference 'Inspiring'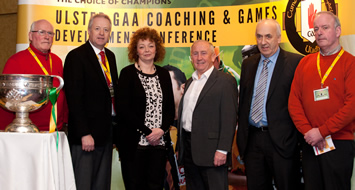 Ulster GAA's 10th annual coaching and games development conference took place on Saturday 26th January 2013.
The conference was once again sponsored by O'Neills International Sportswear and the main theme of this year's conference was 'Thinking Coaches Produce Thinking Players' and it was a case of 'been there and done it' as Sean Boylan delivered his keynote addresses to the conference.
Sean Boylan has a wealth of experience having managed Ireland in the International Rules Series in 2006 and 2008, where he tasted both defeat and success. Despite coming from a hurling tradition, Sean was selected as the Meath Senior Football Manager, a post he held for an unprecedented 23 years. During this time Sean won a total of four All Ireland, eight Leinster, and three National League titles.
The conference also looked at systems in place in other sports as we strive to ensure that we are at the fore in coach and player development. Robin Gregg from Sport NI delivered a keynote on 'Learning about Systems and Coaching Practice from the World's Best', while Dr. Aidan Hamill spoke about the specific issues around the management and coaching of talented young people.
Another key area explored was finding the balance between rest and recovery. Tyrone Physiotherapist Louis O'Connor and Chris Mc Nichol from the Sports Institute Northern Ireland, advised on how to identify early warning signs of impending injuries and how to ensure that your players are protected against over training.
Delegates had the opportunity to attend a series of workshops on critical development themes including:
• the 'Management of Players within Academies', (Jim Lowther UUJ),
• 'If Intensity is the Key to hurling Success, How does Ulster Measure Up?' (Kevin McGuigan & Micky McCullough, Ulster GAA),
• 'Coaching Children', (Philip Kerr, GAA Tutor),
• 'Structures and Systems for Hurling Development', (Brian Ryan Kilkenny),
• 'Developing Thinking Players', Adrian McGuckin (Derry),
• 'The Psychology of Technical Development in Hurling', Kevin Ryan (Antrim Hurling Manager),
• 'Coaching Female Athletes', Joe Passmore (Derry)
• 'Empowering your players to achieve their potential', (Dessie Ryan, QUB & Ballinderry Shamrocks GAC)
• 'Player Decision Making in Gaelic Football', (Dr. Eugene Young Ulster GAA Director of Coaching & Games Development)
Special guests, World Handball Champions, Paul Brady and Aisling Reilly were interviewed at the Conference and hopefully the coaches in attendance picked up a few ideas from our 'world beaters'.
For further information Contact:
Eugene Young: 02837517180
Photo caption:
Sean O'Neill (Down), Martin McAviney (Ulster GAA Vice President), Minister Carál Ní Chuilín, Sean Boylan (Meath), Ulster Secretary Danny Murphy and Mick Murphy (Donegal)