Scór na nÓg All-Ireland Finals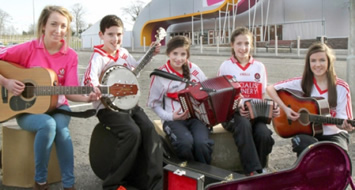 Some two thousand people from across Ireland will converge on Derry this Saturday as the county hosts the national finals of Scór na nÓg for the first time.
This event is the first of many headline GAA events to take place in Doire Cholm Cille in 2013, as John Keenan, Derry County Board chairman, explains: "2013 is a very special year for the GAA in our County. This year marks the 125th anniversary of the founding of the association in Derry. We are a sporting and cultural organisation and are delighted to get our programme of events underway with the hosting of the Scór na nÓg finals on the 23rd February.
"I have no doubt that the events of 2013 will leave a lasting legacy on the GAA scene in the City, as well as introduce tens of thousands of people to the attractions and amenities the City has to offer. Derry will benefit not only culturally, but socially and economically from the events of 2013 and that is something to truly welcome."
Chairperson of Scór in County Derry, Una Ferguson said: "It's a privilege and an honour for us to play host to the national Scór finals this year. In many ways we've been building up to this for a few years with the resurgence of the movement in the County and the recent hosting of Ulster competitions. Derry has a rich heritage in story, dance and song. "
Secretary of Ulster Scór, Fergus McGee said: "I would like to extend a céad míle fáilte to the officials, adjudicators, supporters and most of all the competitors from the provinces of Connacht, Leinster and Munster to the historic City of Derry for the All Ireland finals of Scór na nÓg 2013."
The Scór na nÓg All-Ireland Finals will begin in 'The Venue' at Ebrington at 2pm on Saturday and tickets are now available.
Tickets are priced at €20/£17 and can be purchased at The Venue on the day. Advance reservations can also be made through your county Scór officer or County Board.