Ulster GAA President praises Derry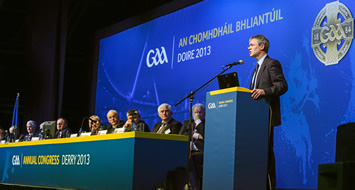 Ulster GAA President Martin McAviney has paid tribute to Derry GAA on their organisation as host County for the 2013 GAA Congress. "I would like to express my sincere pride and admiration for Derry GAA who organised a Brilliant Congress. Everything was accounted for down to simplest details and I would like to pay tribute to County Chairman John Keenan, County Secretary Liam Peoples and the organising Committee for their outstanding work. It was an enjoyable weekend in every respect and I look forward to returning to Derry City for further GAA events in this historic year that celebrates both the City of Culture and the 125th Anniversary of Derry GAA".
The Ulster President also called on all Ulster Gaels to Support Joe Brolly's Opt for Life Campaign: "Joe gave a fantastic speech at Congress on Friday evening and spoke passionately about his new campaign which the GAA is fully backing. Ulster GAA will be playing a full part in promoting and raising awareness of the important issue of organ donation and will be backing this wonderful campaign and the work of both Joe Brolly and Shane Finnegan".