'A Big Weekend' GAA-style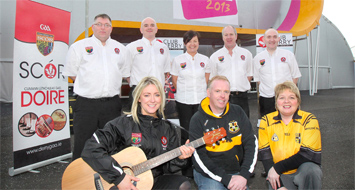 'A Big Weekend' GAA-style gets underway this Saturday (27th April) with the cultural showpiece that is the All-Ireland finals of Scór Sinsear.
Having hosted the junior finals back in February, and following the huge media attention around GAA Annual Congress, the Oakleaf County once again becomes the focal point of the GAA at a national level.
With curtain call of 3pm, marginally short of twenty-four hours before the ball is thrown up in front of an anticipated sixty thousand people for the Allianz National Football League finals at Croke Park, it's another busy weekend for the GAA in general, and for the host county.
Derry GAA County Chairperson John Keenan commented:
"Events are certainly coming thick and fast at the moment. Our local club season has just gotten underway with thousands of adults and children participating in Gaelic Games throughout the county; we've had GAA congress and the national finals of Scór na nÓg. Both events will live long in the memory of those who were there and I'm sure Saturday's senior finals will be right up there again. The junior finals set the bar for the year unbelievably high in terms of events surrounding our own 125th anniversary and a special year for the City, but it's a challenge we look forward to.
"The volunteer effort involved on the organisation side has been inspirational, and a real tribute to the ethos of the GAA and our clubs. We will have some of the finest musical, theatrical and dance talent on show in Derry this weekend and it is well worth a look for anyone unfamiliar with Scór as the cultural side of the GAA."
With up to three-thousand spectators anticipated, the finals are sure to be another economic boost to the City's leisure and hospitality industry – a point not lost on Keenan:
"On behalf of all in the GAA locally, I'd like to welcome all our visitors to Derry this weekend. There's a great vibrancy and excitement around the City and County at this time and we're anticipating another bumper weekend. It's a great opportunity for the local area to showcase its attractions, culture and hospitality. I hope all travelling parties enjoy their weekend with us, have a safe and pleasant journey to and from Derry, and visit us again soon"
Culture Company Chief Executive, Shona McCarthy said:
"It's great that Scór Sinsear is taking place at the venue in Ebrington. To have the most talented performers from every corner of Ireland displaying their abilities here in the city is fantastic. This is the third major event that that the GAA have held in the venue, following on from Scór na nÓg and Annual Congress, and signals just how whole-heartedly the GAA has engaged with the City of Culture project."
Tickets are priced at £19/€22 and can be reserved/purchased from Owenbeg Derry GAA Centre by calling +44(0)2877742990 OR by emailing secretary.derry@gaa.ie on or before Thursday 25th April. A limited number of tickets will be made available for sale at the Venue on the day.
Picture Caption (Credit: Margaret McLaughlin): Participants in the local Derry Scór competitions in 2013, Stephanie O'Kane, Ciaran Brown and Blaithin McFlynn join with members of the local organising committee at Derry's 'Vital Venue' to launch the 2013 All-Ireland finals of Scór Sinsear.