John Joe honoured by his own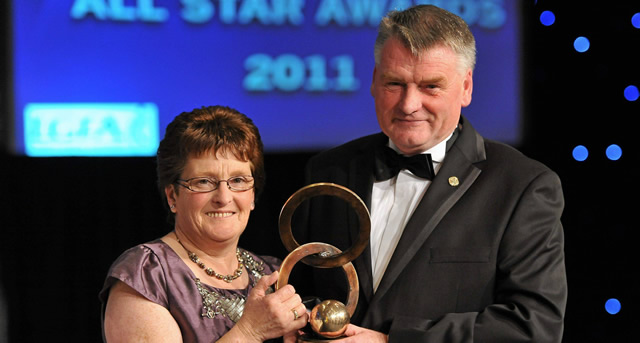 Cavan Ladies County Board hosted the annual LGFA congress in March at the Radison Blu Hotel on the Farnham Estate. After many months of preparations the Breffni Gaels did themselves proud by hosting a brilliantly organised event where the Cavan hospitality was very much on show. As an addition to the normal business of Congress the County Board decided to use the opportunity to make a special presentation to John Joe Brady in recognition of his immense contribution to ladies football in Cavan, Ulster and Nationally.
John Joe's association with ladies football started in 1976 in his beloved club Mullahoran. It wasn't long until he tasted success with them as they lifted the first ever All Ireland Club title the following year. He held the position of Mullahoran Chairman for 11years and since then he has held a number of administration and management positions with his club Mullahoran, his County Cavan, his province and Central Council.
As well as his administrative roles John Joe was also a very capable referee and his daughters are following suit with Yvonne the woman in the middle of the recently drawn All Ireland junior final between New York and Wicklow, and Aine running the line at many provincial and national games. The family connections don't end there though as John Joe's wife Abbey has been a member of Cavan Ladies County Board for a number of years and is their delegate to Ulster Council.
John Joe's recognition at Congress this year was not the first time his dedication has been acknowledged. In 2005 President Mary Mc Alesse invited him to Aras an Uachtarain to acknowledge the contribution he made to Irish sporting life for over 25 years, and in 2011 he was the recipient of the LGFA Hall of Fame award as well as a President's Award for his contribution to Ladies football.
John Joe is the current Ulster Ladies Treasurer and one of the Ulster representatives on the National Fixtures Committee. Long may his involvement in Ladies Gaelic continue!
Pictured: John Joe and his wife Abbey at the LGFA All Star Awards in 2011 where he received his Hall of Fame Award