O'Neills Ulster Póc Fada on Divis Mountain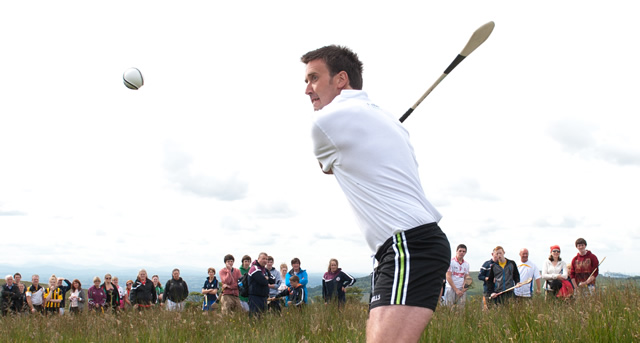 The O'Neill's Ulster Poc Fada 2013 will take place at 7.30pm on Friday 21st June at Divis Mountain, just outside Belfast.
What? Ulster Póc Fada
When? Friday 21st June 2013
Where? Divis Mountain, Belfast. Competitors to meet at Lamh Dearg club-rooms, Springfield Road, Belfast.
Time? Starts at 7.30pm with presentations at 10pm in Lamh Dearg GAC
Who? County representatives in Hurling and Camogie.
Members of the public are welcome to come along and enjoy the event in this area of natural beauty.
All Press and photographers welcome to attend.
Speaking ahead of the event Ulster GAA President Martin McAviney said, "The Poc Fada is a very proud tradition for the GAA where Hurlers and Camogs have the opportunity to demonstrate their skills and determination as they battle against the elements and the mountainous conditions to keep their balance and co-ordination as they strike a sliothar over a lengthy course in the fewest strikes possible".
The winner of this year's O'Neill's Ulster Senior Hurling Poc Fada event will represent Ulster at the National Poc Fada but will also win a ski trip in association with 2FM and Top flight who have come on board as partners.
Divis Mountain has proved to be an excellent location for our provincial competition over the last number of years and we are indebted to the Lamh Dhearg Club who continue to offer their premises for changing facilities and also for post event refreshments.
Ulster GAA introduced a Provincial Poc Fada over a mountain course in 2006 when the competition was held at Carn Togher, which lies close to Slaughtneil in County Derry. Down's Graham Clarke was successful three years running before Derry man, Ruairi Convery made the competition his own, winning four titles in a row from 2009 to 2012.
The 2013 event, which is sponsored by O'Neill's, will once again be held over the course at Divis Mountain, which is close to Belfast. Divis at 478 metres (1,562ft) and Black Mountain at 390 metres (1,275ft) form the dramatic backdrop to the city of Belfast. The mountains were first open to the public in June 2005, giving the people of Belfast access to the mountains that were in private ownership for decades.
The mountains offer spectacular views across Antrim, Down, Armagh Tyrone and Derry. The Mourne Mountains, Strangford and Belfast Loughs, the Castlereagh and Holywood Hills and the Sperrins are all visible, as are the coasts of England, Scotland and the Isle of Man.
Getting there:
From M1 motorway:
– Leave M1 motorway at Junction 2 (Stockman's Lane).
– Take the A55 (Outer Ring), signed Falls.
– Go straight across first two roundabouts.
– From dual carriageway, turn left on to Upper Springfield Road (B38), follow brown sign for Divis and Black Mountain.
– Continue for about 1.5 miles to Cumann Lamh Dearg for changing rooms.
– Leaving Lamh Dearg club, turn left and drive for about 0.4 miles before turning right on to the Divis Road, follow brown sign to Divis and Black Mountain.
– Continue on the Divis road to the car park, which is located on the left
– The course is a short walk opposite the car park
The event will involve individual Senior and Under 16 categories in both hurling and camogie.
For further information please contact:
Ulster GAA Hurling Development Manager: Jimmy Darragh 0 (+44) 7920 429204 or email jimmy.darragh.ulster@gaa.ie
Ulster GAA Leas-Uachtarán: Michael Hasson 0 (+44) 7920 528789 or email vicechairperson.ulster@gaa.ie