Statistical Analysis of Armagh v Down (USHC)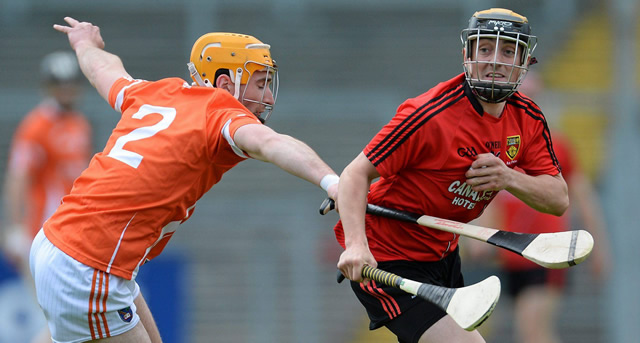 Ball in Play
The Ulster Hurling Championship got under way on Sunday past, with the quarter final between Down and Armagh taking place in Pairc Esler. A basic analysis allows us to provide an overview of the portion of game time which could be considered to be 'active' (Figure 1). The first hurling match of this series provided an excellent example of the volume of game time which is inactive, with only 48% of the total game time considered active. While this figure is not entirely unexpected, it does give a little bit more weight to debates around 'inactive' time and stoppages and how they affect the game as a spectacle.
Possession
Given the nature of hurling, it is very difficult, and not overly accurate, to measure time spent in possession by each team, especially given that for a high portion of game time possession is being contested. A better way to measure possession statistics in hurling is to compare the number of clean possessions a team were able to secure over the course of the match.
Figure 2 confirms that in terms of possession share, this game was almost perfectly evenly split, with Down securing just one more possession over the course of the game.
In the first half, Armagh were able to enjoy the majority of possession (figure 3). Despite their greater number of possessions, Armagh had registered 2 fewer scores than Down, one of which was a goal, therefore they were 4 points behind.
In the second half, Down were able to reverse the possession imbalance, and this was evident on the scoreboard by the end of the half (Figure 4). Down outscored Armagh, by 1-12 to 0-04, a total of 11 points difference. Not surprisingly, what these possession stats suggest is that superior number of possessions does not necessarily lead to victory, but more importantly how effective the team is when in possession.
Puck Outs
By reviewing the puck out statistics we will be able to see just how important dominance in this area is to overall possession share. Based on what we know of possession share, it is fair to speculate that the teams should have a fairly balanced share of puck out possession.
As we can see from Figure 5, this is not the case. Over the course of the game Armagh dominated puck out possession, claiming 61% of all puck outs, compared to Down's 39% share. While not conclusive, these stats do suggest that winning possession from the puck outs is not necessarily essential to overall possession.
Figure 6 depicts how the puck outs were won and lost by both teams. It is interesting that both teams lost similar numbers of their own puck outs (Down – 14, Armagh – 13). However, worryingly for Down, Armagh performed much better than Down in terms of winning their own puck outs, with Armagh claiming 24 of their own puck outs, while Down could only secure 11 of their own puck outs.
Possession to Scores Ratios
The above clearly identifies that the volume of possession is not the key factor to outcome, but it is fair to suggest that effective use of possession is the key.
As we already know, both teams secured a very similar number of possessions. However, figure 8 below shows clearly where the difference existed between the two teams. Of their total possessions, Down built 66% to attacks, while Armagh only managed to build 57% to attacks. From these attacks Down worked scoring chances from 78% of these attacks, with Armagh settling for shots from 61% of all attacks. From all shots taken, Down scored from 57%, and Armagh just 44%. So in each phase, Down were superior to Armagh, thus rendering the equal possession share inadequate if Armagh were hoping to be successful.
Ultimately, Down were able to convert 29.5% of all their possessions to scores while by contrast Armagh could only convert 15.5% of possessions to scores, a success rate almost twice as good. On the basis of these success rates, Armagh would have required roughly 100 possessions to score 15 times, while Down would only have needed roughly 50 possessions to score 15 times.
Scores
With Down much more efficient with their possessions it is apt to note the breakdown the success of shots taken. It is clear in figure 8, that Down's superior score taking ability from open play was the key differnece in determining the outcome of this match.
Turnovers
Armagh were dominant from puck outs, but as can be seen previously, they were unable to convert this dominance to possession superiority, nor scores. It is clear that they were losing more possession than Down, and figure 9 below provides a good illustration of the turnover stats for both teams.
Not surprisingly, both teams lost the majority of their possession through misdirected clearances and long range passing. Also as expected, Armagh had a total of 50 turnovers, compared to Down's 42 turnovers. Both teams will be concerned with the volume of possession lost through their long passing / clearances, with Down in particular keen to address this issue ahead of their semi final meeting with Derry.
Aerial Contests
One key aspect of the game is the ability to claim possession from aerial contests, either cleanly, or via the ensuing break ball. Having noted all contested aerial possession, figure 10 below highlights the importance of the ability to win break ball. Of the 70 aerial contests during the match, 82% resulted in a break ball. Another way of describing this, is that 8 out of every 10 aerial contests will result in a contest for the break ball.
While Armagh were able to claim more clean possession, it is notable that Down were able to secured a greater number of break balls from the contests. Overall, from all the aerial contests, Down won marginally more possession, 37 (52%), than Armagh, 33 (48%).
Summary
For many observers, the volume of inactive game time will be alarming, and is definitely something worth observing in future matches. In terms of match outcome, this game suggests that gaining possession is not as important as the ability of a team to convert possession to scores. Down were superior in every stage of play once they had gained possession and this ultimately led to their victory.
Armagh
Armagh will be disappointed to exit the championship early, and will no doubt be taking some time to reflect on their 2013 season as a whole. However, based on this game they may already be able to extract a few issues that could form the basis of their preparations for the 2014 season.
On a positive note, they will be contented with the volume of possession they were able to secure from the puck outs, but they will need to improve how they use this possession in order become more competitive in 2014. They will have to work to improve their use of possession from deep, with a lot of possessions being lost or turned over before they were even able to build an attack. Another issue worth noting for Armagh is their scoring from open play, which was vastly inferior to Down's scoring power from play. They only converted 7 chances from play, compared to Down's 18 scores.
Down
Down will be happy to have progressed and when comparing their stats against Armagh they will have little to be concerned about. However, it is likely that Derry will provide a tougher test in the semi final, and Down may find more pressure applied when attacking, and will no doubt be faced with a more potent threat from open play.
One key area they will want to address is their performance from puck outs, where they conceded a lot of possession to Armagh. Despite this, they were able to break even in possession share, so by improving this puck out performance they may well find that they will enjoy a superior share of possession. They will also be keen to reduce the number of turnovers coughed up through long clearances / passes ahead of the Ulster semi final with Derry.