Donegal star inspires a new Generation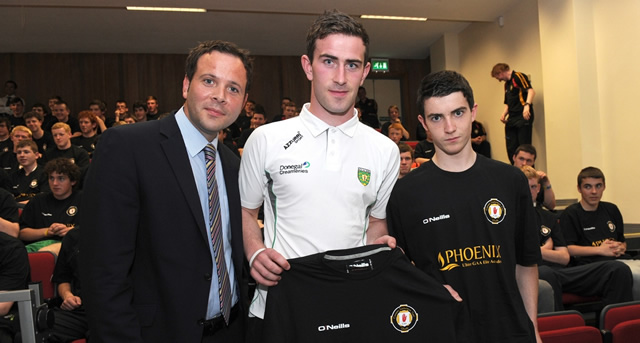 Donegal All-Ireland winning star Patrick McBrearty yesterday appeared as a guest speaker at the 2013 Phoenix Ulster GAA Elite Academy. Patrick addressed all the players before fielding a number of questions from the very captive audience. He spoke of his own experiences as an elite underage player and shared some excellent advice for the players both from a playing and personal perspective.
The Elite Academy, which is now in its 11th year, consists of a residential camp for 90 of the most talented Under 16 footballers and hurlers within Ulster. The players are subjected to an intense two day camp which features the highest level of coaching and associated training in areas such as performance analysis, nutrition, mental preparation, psychology and lifestyle management.
It was a familiar outing for Patrick, who himself attended the Elite Academy as a player in 2009.
Patrick is just one of a number of elite senior County players who have previously attended the Ulster GAA Elite Academy. Others include fellow Donegal star Michael Murphy, Tyrone's Peter Harte and Antrim hurling captain Neil McManus. Reflecting on his previous experience at the Academy, Patrick paid tribute to the excellent standard of coaching and facilities available to the players, and indeed stated that it was a major contributor in his remarkable transition from underage to senior star.
Ulster GAA President Martin McAviney stated:
"It is fantastic to see Patrick return to the Phoenix Elite Academy to impart some words of advice and inspiration to the current crop of elite underage players within the Province. Patrick's story is testament to the success of the Phoenix Elite Academy and we will look forward to many more of these young players going on to represent their Counties and Province with distinction in the future. I would also like to pay tribute to Patrick personally and thank him for giving up his time to attend the Academy, it is another reminder of the core volunteer value of the GAA at all levels. I also thank Phoenix for their continued support and confidence in our core youth player programme. Their sponsorship and encouragement allows us to to put in place the foundations for developing the stars of the future."
Simon Little of sponsors Phoenix Natural Gas said:
"Phoenix has a long history of supporting young people and helping them to reach their full potential, whether that be through the arts, education or on the sports field. It was a pleasure to be invited down to the camp to meet some of the young people involved. I have no doubt that they will come through this experience with an increased sense of purpose, with clear personal objectives and with more confidence in their own abilities. Phoenix's support for the GAA, as part of our wider community engagement programme, is now in its second year and we are very pleased that the Phoenix Elite Academy is continuing develop these young local footballers and hurlers".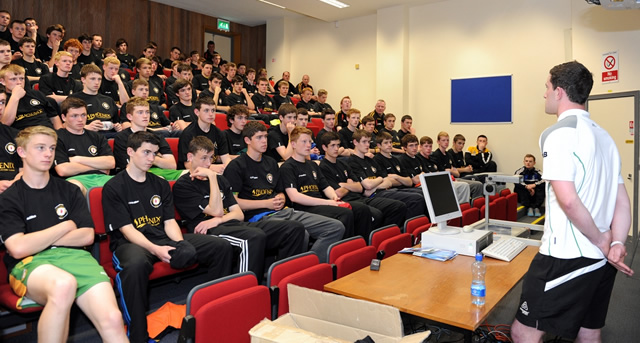 Photo Captions
1: Conor Doherty from Kilcar presents Patrick McBrearty with a Phoenix Ulster GAA Elite Academy t-shirt, along with Simon Little, Communications Manager Phoenix Natural Gas.
2: Patrick McBrearty addresses the players at the 2013 Phoenix Ulster GAA Elite Academy.