Camogie President attends Castlerahan Hurling and Camogie Camp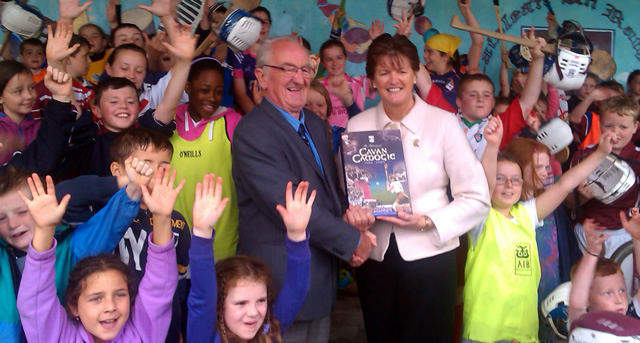 The latest Cavan Hurling and Camogie Summer Camp took place from Tuesday August 13th to Thursday August 15th in Castlerahan GAC, Ballyjamesduff, Cavan. Over 70 children attended the camp from 5 clubs across Cavan ranging from ages 5 up to 13, The camp participants were divided into 4/5 groups, with the children playing with players their same age.
The training and games started on Tuesday and continued through to Thursday, with the sessions being led by Vincent Dolan, Francis Clarke, Karen Boyle, Nicola Collins and Danny (Deise) Kennedy who were ably supported by young club coaches Rebecca and Eimear. Paul Divilly Ulster Regional Hurling Development Officer, Ger Gribben Camogie Regional Development Officer and Eoin Morrissey Cavan Hurling Development Officer were also on hand to deliver sessions with the different age groups.
On Thursday we had a very special guest with the attendance of the Camogie President Aileen Lawlor, giving her support to the joint Hurling and Camogie ventures that are currently happening within Cavan. Aileen answered many questions from the young players, signed even more hurleys and stood for numerous photographs.
Cavan TV was on hand to interview Aileen on her thoughts on the great affinity that exists between the Camogie Association and the GAA and in particular the Hurling Fraternity and how this can be developed even further. The interview with Aileen can be seen next Wednesday 21st August on the Cavan TV page – CavanTV.com. Also in attendance was the Anglo Celt photographer
To mark Aileen's visit to Cavan, the Cavan County Camogie Chair Peter Brady presented a copy of the Cavan Camogie History book to her, which Fr Oliver O'Reilly kindly donated.
Liberty Insurance, who is the sponsor of both the Senior Hurling and Camogie Championships, had 2 representatives attend, Dominic Finlay (Marketing and Communications Manager for Liberty Insurance) and  Michelle McBride (who is also the Cavan Camogie secretary) to show their support for the joint camp. They very kindly provided refreshments for all the children involved which we are very grateful of.
To help promote the Cavan Hurling and Camogie camps, Shane Dooley of Offaly Hurling stardom, has been lined up by the Cavan GAA and the GPA, to give some excellent coaching each week and he has also been answering many questions from the young players about how to become a County Hurling star. It's great to have someone of the calibre of Shane attend the camps and helps the children aspire to becoming the best they can be!
Not to be out done Cavan Camogie had organised their own County Camogie players  to support the camp – Katrina Leddy, Sinead Moore, Jenny O'Rourke, Eimear Brady, Roisin O'Keefe and Nicola Collins (camp coach) were all on hand to give coaching support and pass on their vast experience to the young players.
Also in attendance were numerous Cavan GAA and Camogie officials including Liam McCabe Cavan GAA secretary, Dermot McCabe Cavan GDM and Marie Brady Cavan Camogie Ulster Delegate.
In short it was a great week finished off by a great day and we have lots of photos to keep the day fresh in our minds.  To see more photos please visit the Camogie Development Facebook Page.
Many thanks to the Camogie President Aileen Lawlor for making time in her busy schedule to help further the Camogie and Hurling development that is going on in Cavan, it is much appreciated.
A big thank you to all of those who helped in any way to promote or co-ordinate the camp, to the Castlerahan GAA club who facilitated the camp in their excellent grounds and also to both Cavan GAA and Camogie boards  for their help in organising the camps. Thanks to Liberty Insurance for providing refreshments and to all the clubs who help support the camps by promoting them to their players and parents. Lastly, thanks to Eoin Morrissey, Paul Divilly and their band of trusty coaches, for all their great work in co-ordinating and coaching at the camps.