Ulster GAA promotes Interface Games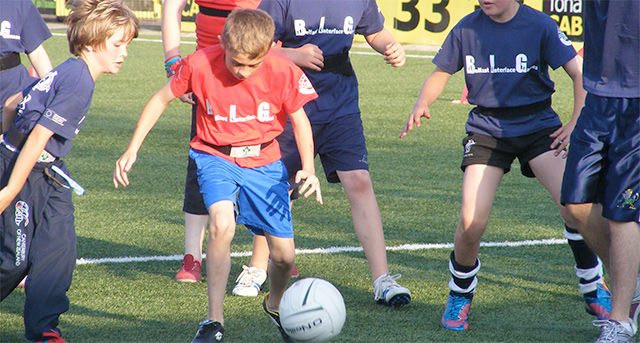 In partnership with Ulster Rugby, the Gaelic Athletic Association, and the Irish Football Association, PeacePlayers International – Northern Ireland (PPI-NI) will host the Belfast Interface Games (BIG); a series of cross-community multi-sport camps for children aged 9 – 13 years from North, South, East and West Belfast in July and August.  This project is supported under the Belfast PEACE III Plan by the European Union's "European Regional Development Fund" through the PEACE III Programme administered by Belfast City Council's Good Relations Partnership.
Launching the project at Queens PEC in May, Belfast's newly appointed Lord Mayor Máirtín Ó Muilleoir said: "I applaud everyone involved with this project and congratulate them for their efforts and achievements in bringing our young people together.  Sport is a great way to encourage teamwork and help forge friendships which will hopefully last for a lifetime".
In the spirit of the 2013 World Police and Fire Games this year being held in Northern Ireland, the four camps in North, South, West, and East Belfast will culminate with a flagship event (the Game of Three Halves) on Friday, August 9, and will bring together all participants from East, West, South and North Belfast.  It will incorporate three of the most popular sports in Northern Ireland (rugby, football, and Gaelic football), as well as community relations activities. The initiative aims to promote respect for diversity in a fun and safe environment while introducing young people to the three different sports.
Trevor Ringland (Chairman of PeacePlayers International – Northern Ireland) said,  "The recent violence and tension in Belfast's interface communities has highlighted the need for continued investment in initiatives such as the Belfast Interface Games.   As I reflect on the events of the last week, which has seen Belfast once again in the news for all the wrong reasons, I recall a question put to me by a film crew as I stood on the pitch at Seaview at the Interface Games in 2012.  They asked 'what would a genuinely shared future for the people of Northern Ireland look like to you?'  The answer was all around me as I stood in that football ground, shared by two clubs, Crusaders and Newington FC, each of whom draw their support from different sides of our community.  Around 90 kids from across Belfast's interfaces were playing the Game of Three Halves, combining rugby, Gaelic football and football, supported by the three governing bodies of Ulster Rugby, Ulster Gaelic Athletic Association (GAA) and the Irish Football Association, and an indispensible fourth half of community relations engagement delivered by PeacePlayers International.  In the stand above the pitch were the parents sitting together and enjoying the action.   The Belfast Interface Games showcases the potential of sport for community relations and peace building work , potential which as yet has not been fully realised".
Children interested in attending one of the camps and the flagship event will be able to register online at http://www.peaceplayersintl.org/our-programs/northern-ireland  by clicking on the upcoming events link and completing the BIG registration form.
** Members of the press are invited to attend any of the following events:
NORTH BELFAST
When: Tuesday 23rd July, Wednesday 24th and Thursday 25th July 2013
9:30am – 2:30pm
Where: Seaview Crusaders FC, Shore Rd, Belfast
EAST BELFAST
When: Tuesday 23rd July, Wednesday 24th and Thursday 25th July 2013
9:30am – 2:30pm
Where:  PlayBall, Stormont, Stormont Estate, Belfast
WEST BELFAST
When: Tuesday 30th, Wednesday 31st July and Thursday 1st August
9:30am – 2:30pm
Where: St. John's GAC, Whiterock Rd, Belfast
SOUTH BELFAST
When: Tuesday 30th, Wednesday, 31st July, and Thursday 1st August 2013
9:30am – 2:30pm
Where: Harlequins Rugby Club, Deramore Park, Belfast
FLAGSHIP EVENT
When:  Friday 9th August 2013, 6pm – 9pm
Where:   Seaview, Crusaders FC, Shore Rd, Belfast
Media Contact: Gareth Harper, Managing Director
PeacePlayers International – Northern Ireland??Tel: 079 8557 4959
E-mail: gharper@peaceplayersintl.org
About PeacePlayers International–Northern Ireland: PPI-NI is a cross-community charity that uses the game of basketball to unite young people from the Protestant/Unionist/Loyalist and Catholic/Republican/Nationalist communities in Northern Ireland. Basketball, unlike traditional sports, is not affiliated with either community, and therefore provides a neutral space to address the cultural divide. By competing together on integrated teams, children from these historically divided communities can discover common ground and forge new friendships.  The contact element of PPI-NI's programmes is further enhanced through age-appropriate community relations and team-building activities that aim to bridge divides, change perceptions, and empower children to impart positive change in their communities. Since 2002, PPI-NI has worked with thousands of young people to successfully challenge sectarianism and promote mutual respect in the communities that suffer most from the legacy of conflict.
Notes to editors:
The Special EU Programmes Body is a North/South Implementation Body sponsored by the Department of Finance and Personnel in Northern Ireland and the Department of Finance in Ireland. It is responsible for managing two EU structural funds Programmes PEACE III and INTERREG IVA designed to enhance cross-border co-operation, promote reconciliation and create a more peaceful and prosperous society. The programmes operate within a clearly defined area including Northern Ireland, the Border Region of Ireland and in the case of INTERREG IVA, Western Scotland.
• The PEACE III Programme, funded under the European Regional Development Fund (ERDF), is worth €333 million and is aimed primarily at reinforcing progress towards a peaceful and stable society and promoting reconciliation. It focuses on helping Northern Ireland and the Border Region of Ireland to reconcile communities and contribute towards a shared society.
• For more information on the SEUPB please visit www.seupb.eu