Long road for Antrim U21 Hurlers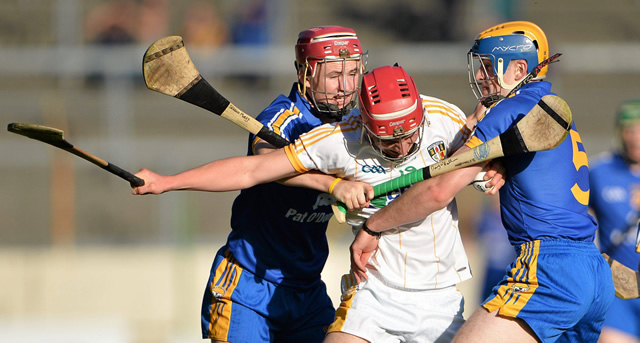 Saturday 14th September 2013 was only the second time in the memory of most Antrim followers that we donned our colours and headed off to an All-Ireland Final. The U21 final V Clare this year bridged a long gap back to 1989 when our senior hurlers lost out to Tipperary. Unfortunately the ultimate outcome was the same, our young team was despatched fairly ruthlessly by a Clare team that was in fairness, a class apart. In fact it is fair to imagine this Clare U21 team standing up to any senior team in the country, they really are that good.
Antrim fans were well represented among the 11,148 strong crowd. Prior to the game spirits were high and it was clear that a few thousand had decided to defy the fixture makers and make the long trip south.
In the early minutes the team seemed to have settled well, scoring 2 of our ultimate total in the opening 10 minutes. It wasn't long before Clare stepped up and rattled over 1.10 without reply. All over the pitch the speed of the Clare team was a sight to behold and they seemed to have a telepathic sense of where their teammates were going to be. That may be what months and years of preparation can do for a team and our own path to ultimate success most likely lies in applying the Clare model ourselves.
In the second half Antrim were more competitive and it was probably the case that the Bannermen had an eye on the replay of the senior final later this month. Chris McGuinness, Ciaran Clarke, Matthew Donnelly and especially Ger Dixon stood out for Antrim but in reality the heroics and the memories from the 2013 season are rooted in the semi final win over Wexford.
So, we hit the long road home, a little dejected with the match we had just seen but with an equal measure of hope in the heart that it will not be another 24 years before we support Antrim in another All Ireland final.
Report: Antrim GAA