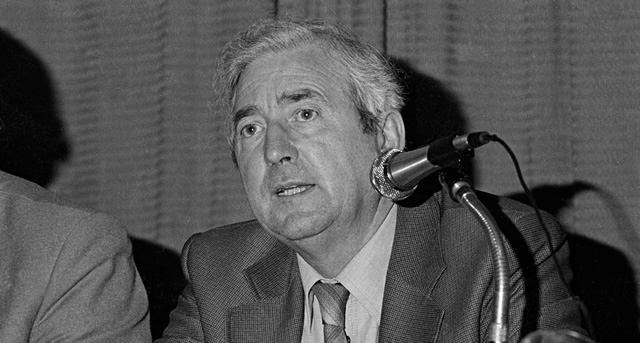 It is with deep sadness and regret that the Officers and Members of the Ulster Council of the GAA have learned of the death of former Ulster Council President and National GAA President Paddy McFlynn.
Commenting, Martin McAviney President of Ulster GAA said:
"Paddy McFlynn was an iconic Ulster and National GAA figure, a GAA giant who had given over 80 years of volunteer service to our Association. Always evident was his immense pride in both the O'Donovan Rossa GAA Magherafelt club (Derry) where he was a founding member at the age of 16 and his later club Tullylish GAA (Down) where he served as Club President. He was also a life long Irish language enthusiast who strongly promoted the language throughout the Association in his various roles.
He served the Association in various positions starting out in a County GAA leadership position at the age of 23 when he was elected Secretary of Derry County GAA in 1940. He moved to County Down to take up a teaching position later in his life and served many roles within the County including that of President of Down County GAA.
His outstanding service to the Ulster Council GAA as a County Delegate for both Derry and Down, Treasurer from 1947 until 1954, Vice President from 1958 until 1960 and President of the Ulster Council from 1961 until 1963.
Paddy McFlynn, however made his greatest contribution in the leadership of the GAA as President from 1979 until 1982. He was in office at a time when the days were difficult but like all other aspects of Paddy's life he dealt with the challenges faced by the GAA at that time both with courage and courtesy.
We will miss his wisdom, friendship, advice and leadership but above all we morn the passing of good man whose integrity and vision leaves a strong legacy for us and the next generation of GAA members."
Ar dheis De go raibh a anam.