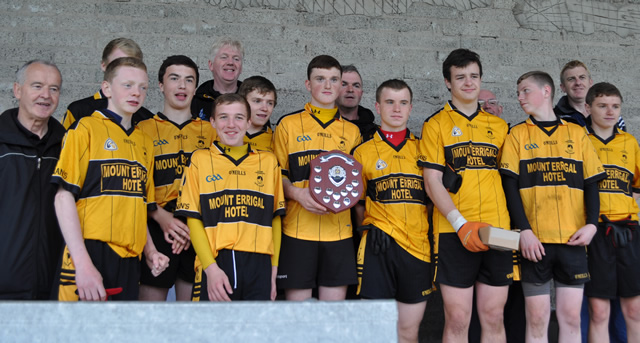 The Ulster Under 15 Óg Spórt Provincial Final was held last Saturday 7th September in Watty Graham's Glen, Maghera. This is an Under 15 Seven a side competition that includes the county winners throughout the province.
The format of the blitz is 3 groups of 3 teams with the group winners and the best runner up participating in the Shield with the remaining teams playing for the Plate.
St Eunan's of Donegal went on to win the Shield Competition after beating Clan Eireann of Armagh in the decider  with Tyrone's An Charraig Mhór beating St Brigid's, Antrim in the Plate Final.
Group 1
St Eunan's 3-8 St Brigid's 1-6
Saul 2-2 St Eunan's 3-4
St Brigid's 1-4 Saul 1-1
Group 2
Erne Gaels 2-4 Clann Eireann 4-8
Carrick Emmetts 3-3 Erne Gaels 4-5
Clann Eireann 4-7 Carrick Emmetts 0-1
Group 3
Cavan Gaels 1-4 Dungiven 6-1
An Charraig Mhór 3-2 Cavan Gaels 2-5
Dungiven 2-7 An Charraig Mhór 2-5
Semi Finals
Erne Gaels  1-1                           St Eunan's 2-10
Dungiven    2-4                            Clann Eireann 2-7
Final 
St Eunan's   2-6                           Clann Eireann  1-4
Plate Competition
Preliminary An Charraig Mhór 1-9           Saul  0-6
Semi Finals
Cavan Gaels 2-6                          An Charraig Mhór 2-8
Carrick Emmetts 2-4                    St Brigid's  3-10
Final
An Charraig Mhór  2-6                 St Brigid's  3-2
The Ulster Council would like to thank the Watty Grahams, Glen Club for the use of their facilities and also for their excellent organisation of the event.  We would also like to thank all the referees who officiated during the day. Finally we would like to thank all 9 clubs across the province for taking part in this prestigious competition.