Antrim take a clean sweep in Ulster Club Finals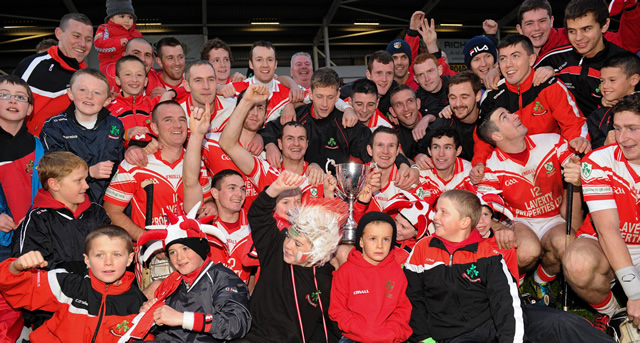 AIB Ulster Club Senior Hurling Championship Final:
Loughgiel (Antrim) 3-14 Slaughtneil (Derry) 1-15
Loughgiel Shamrocks had to battle back from 8 points down to Slaughtneil to retain their AIB Ulster Club Senior Hurling title on Sunday.
The 2012 All Ireland club champions were expected to collect their fourth Ulster Club title in a row but it was Slaughtneil who made the much brighter start, aided with the breeze, to race into a 0-4 to 0-0 lead after 7 minutes. Liam Watson opened the Shamrocks account with an 8th minute free, but Slaughtneil responded with a further 1-2, the goal coming via a Cormac McKenna free, to open up a 1-6 to 0-1 lead in favour of the underdogs.
However, Loughgiel battled on bravely against the elements and livewire forward Eddie McCloskey fired home two vital goals either side of another McKenna free which was this time deflected over the Shamrocks crossbar, to leave just four points between the sides at half time.
After the resumption, the sides traded points and McKenna saw his well struck penalty saved by O'Connell in the Loughgiel goals. This penalty save seemed to spur on the Shamrocks, and Shay Casey added a goal from close range following some unselfish work by Barney McAuley to level the sides.
With the breeze now at their backs, Loughgiel were able to add points with much greater ease in the final quarter while the defence dealt admirably with the Slaughtneil forward line. Indeed, the Derry champions were restricted to scores solely from placed balls in the second half.
Loughgiel will now face the Leinster senior champions in the All Ireland semi final on Saturday 8th February.
Loughgiel: C O'Connell; P Gillan, N McGarry, R McCloskey; T Coyle, M Scullion, O McFadden; M McFadden, T McCloskey (0-1); B McAuley (0-2), D Laverty (0-1), E McCloskey (2-2); B McCarry (0-1), S Casey (1-0), L Watson (0-7, 6f)
Sub: D McCloskey for Coyle (47).
Slaughtneil: E McGuigan; K McKaigue, P Kearney, C Kearney; S Cassidy, C McKenna (1-3, 2f), J Mulholland; C O'Doherty, G O'Kane (0-6, 6f); G Bradley (0-2), D Kearney, C McKaigue (0-4, 1f); O O'Doherty, B Rodgers, S McGuigan.
Subs: B Óg Corbett for C Kearney (28), E Cassidy for D Kearney (39), F Kelly for Rodgers (52).
Referee: Brendan Sweeney (Cavan).
—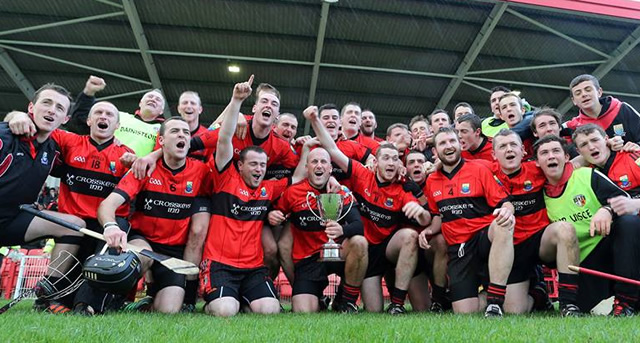 AIB Ulster Club Intermediate Hurling Championship Final:
Clooney Gaels 1-16 (Antrim) Cúchulainns (Armagh) 1-13
Antrim champions Clooney Gaels have won the Ulster Club Intermediate title for the first time after they survived a strong second half comeback from Armagh's Cúchulainns at Celtic Park.
Playing with the aid of a strong breeze in the first half, the Gaels opened up a comfortable looking 1-11 to 1-3 lead at the interval thanks to a PJ O'Connell goal, while Neil Duffy registered the Cúchulainns major shortly before the break.
In the second half, the Armagh mounted a superb comeback inspired by county star Declan Coulter and it looked like Coulter was going to level the sides in the dying moments, only for his rasping 25 yard shot to rebound off the Clooney Gaels crossbar.
In the end, despite the late downpour of rain and Coulter's heroic efforts, Clooney Gaels just managed to hold on to secure their historic victory.
Cúchulainns: P Heaney; S Fields, C Clifford, M McCullough; N Duffy (1-0), R McGrattan, E Gribbin (0-1); C Toner (0-1), D Coulter (0-8, 4f); T Duffy, T Marley (0-1), C Kane; C Coulter (0-2, 2f), P Duffy, C Gorman (0-1)
Subs: C Duffy for T Duffy (36), P McKernan for C Coulter (41), R Devlin for Gribbin (57), C Reid for McKernan (60)
Clooney Gaels: P Graham; E Brady, F Neeson, C McGlone; J Downey, D Graham (0-1), F O'Neill (0-1); D Neeson (0-1), M Graham (0-2); G Graham (0-4, 4f, 1 '65), T McGlone, D Graham; J O'Connell (0-3), PJ O'Connell (1-3), O Neeson
Subs: E Graham for O Neeson (42), S O'Connell for D Neeson (53), J Magee for Downey (60)
Referee: Eamonn Hasson (Derry).
—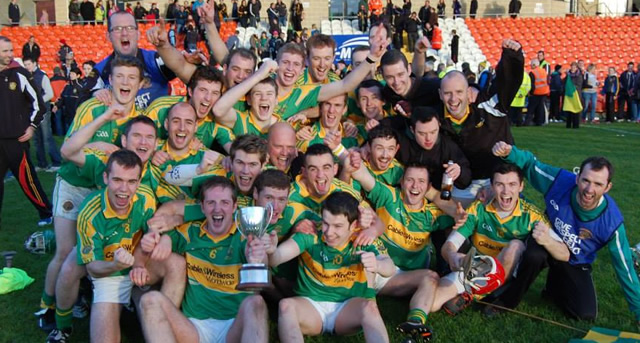 AIB Ulster Club Junior Hurling Championship Final:
Kickhams Creggan (Antrim) 0-13 Craobh Rua (Armagh) 1-07
Oran's McCann's accuracy from placed balls was central to the success of Creggan as they saw off the challenge of Craobh Rua at the Athletic Grounds in Armagh.
McCann contributed 7 points to his sides total while namesake Conor McCann added 3 points from play in a victory that was more comfortable than the 3 point winning margin suggests.
Antrim champions Creggan showed too much power and clinical finishing for their Armagh counterparts but were unable to shake off the stubborn challenge of Craobh Rua which kept them in the contest for the majority, while Kyle Kane's late goal proved only to be a consolation score as the Kickham's held on for victory.
Kickhams Creggan: B Prenter; D McCann, A Maguire, D Totten; F McAuley, A McKeown, M Johnston; S Maguire, T McCann; J Carey (0-1), O McCann (0-7, 0-5f, 0-1 '65), K Rice; C McGrenaghan (0-1), J Dougan, C McCann (0-3). Subs: M Nelson (0-1) for Dougan (48 mins).
Craobh Rua: R Lundey; M Lewis, M Fleming, H Hanna; S Casey, M Garvey, M Doran; F Bradley (0-1), R Lewis; P Cunningham (0-1), M Bradley, C Devlin; E Robb (0-4, 0-4f) , P O'Connor, K Kane (1-1). Subs: F Burns for Devlin (19), A Nutley for Hanna (33), J O'Hare for O'Connor (43).
Referee: Jason McAndrew (Monaghan)