'Club Together' Conference Launched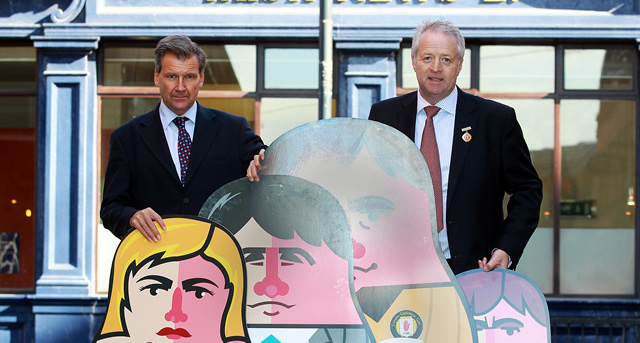 Ulster GAA and the Irish News have launched their 2013 Irish News Ulster GAA Volunteer Conference – Club Together which will take place on Saturday 9th November 2013 in the Glenavon Hotel, Cookstown from 9am – 3:30pm.
A full house is expected as club volunteers converge in Cookstown for the popular conference which is targeted at club volunteers involved in governance roles, including: Chairpersons, Secretaries, Treasurers, PROs and all those involved in Club and County committees.  The conference hopes to attract volunteers across all codes including camogie, Ladies Gaelic, Rounders and handball members to emphasis the Ulster Club Together ethos.
Registration has now opened and people are urged to register early to avoid disappointment as places will be reserved on a first come, first served basis.  Registration is £15/€18 per person and Ulster GAA are running a special discount for the first 100 people to register with a club offer of 5 delegates for the price of 4 priced at £60/€72.
Speaking at the launch of the 2013 Irish News Ulster GAA Volunteer Conference – Club Together Ulster GAA President Martin McAviney said, "The Club and Volunteer Conference is always a great day for our club officers and volunteers to come together to celebrate all that is good within the GAA.  This conference is focused on those involved in the running and operations of our clubs.  These volunteers are the people who work extremely hard behind the scenes to ensure smooth running of club business to include finance and fundraising, PR and marketing, administration, health and wellbeing, promotion of Irish culture and leadership.
"This conference will explore the key issues facing clubs in 2013 and we are delighted to have secured so many experts across our workshops and plenary sessions, including well known GAA personalities.
"I am delighted to have the Irish News back on board as the main sponsor of this conference and we are grateful for the promotion they give to club matters in their newspaper."
Irish News Editor Noel Doran said, "The Irish News is proud to be conference partner once again for Ulster's Club and Volunteer Conference.  As a newspaper, we love to cover all the action on the pitch but we recognise that its takes a lot of work from volunteers behind the scenes to bring success to the field of play.  This conference puts the spotlight firmly on this volunteers and fits very well with our Club Call section which is published every Thursday."
The 2013 Irish News Ulster GAA Volunteer Conference – Club Together will include 7 workshops which will allow club volunteers to explore key issues facing clubs.  These interactive workshops will be the perfect opportunity for Club members to hear from the experts, to see how other clubs do their business and to discuss what will work best for their own club.  Workshops are as follows:
Integration – 'Club Together'
This session showcases the 'One Club' model, highlighting the challenges and benefits of the approach.  Presenting integrated club case studies as models of best practice attendees will be advised on how to move their Club towards this approach to administration.
Health & Wellbeing – 'Tackling Mental Illness'
This session draws on personal experience to reflect on challenges faced by GAA members.  Clubs are advised on how to best promote awareness of mental wellbeing and how to support someone who may experience difficulties.
Culture – 'Gaeilge sa Chlub'
This session reflects on the GAA's role in relation to the Irish language and provides direction on initiatives which would benefit members in enhancing their language development.
Social Media – 'How's your Club trending?'
Reflecting on the importance of marketing and branding, this session advises Clubs on how to maximise their profile online to yield better communication and awareness of activities.
Fundraising – 'Raising the Roof'
This session showcases examples of Clubs who have successfully sourced funds and outlines public funding channels which are available to GAA units.  The Glenullin GAA club will be presented as a model of best practice in this area.
Volunteering – Recruiting and developing volunteers
This session will explore means by which GAA clubs can recruit, develop and retain their volunteers, showcasing examples from within the Association and from beyond through the Michaela Foundation.
Heritage – Marking Milestones in your club
This session will provide advice on how best to record and celebrate Club achievements to leave a lasting legacy.
Club and individuals are urged to register early for this conference to avoid disappointment by emailing conference.ulster@gaa.ie or phoning Fionntan O'Dowd at 028 37517180.
Any business wishing to exhibit their goods and services at the conference should contact Donal McAnallen by phoning 028 37517180.
Related:
– Irish News Ulster GAA Volunteer Conference Booking Form 2013
– Irish News Ulster GAA Volunteer Conference Running Order