GAA Club together for Championship Launch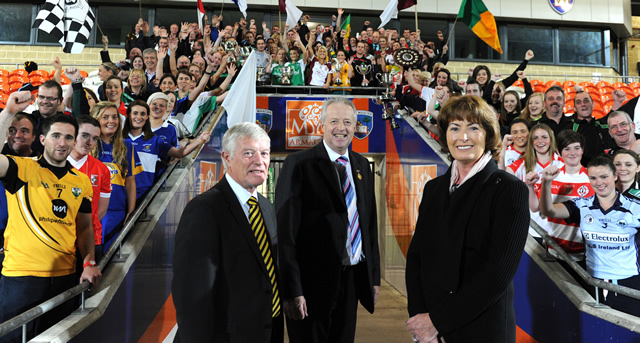 The 2013 Ulster Club Championships were launched last night in the Athletic Grounds in Armagh by the Presidents of Ulster's three Associations: Martin McAviney from Ulster GAA, Kathleen Woods from Ulster Camogie and Joe Lagan from Ulster Ladies Gaelic.
The very special evening in Armagh shone the spotlight on the very best of Gaelic Games across clubs in Ulster.  Club players and mentors gathered kitted out proudly in their club colours, knowing that not only are they representing their local club community but they are also representing their county in the 2013 Ulster Club Championships.
The 2013 AIB Ulster Hurling Club Championship continues this weekend (6th October) with Intermediate and Junior teams competing.  The 2013 AIB Ulster Football Club Championship throws in on 20th October with Senior and Intermediate games scheduled.
The 2013 Tesco Ladies Gaelic Club Championship is already underway with quarter finals scheduled for this weekend, while the 2013 NWP Camogie Club Championships continues from 5th October.
Speaking at the launch Ulster GAA President Martin McAviney said, "Our Ulster Club Championships are always full of passion, determination and grit with club players representing their club and their county in their quest for an Ulster Title.  It is a major achievement for any club to win their county championship and to play in the Ulster Championship is a real honour.
"The 2013 AIB Football and Hurling Ulster Club Championships will be extremely competitive and I look forward to another great year for our clubs.  I wish all competing teams well as they battle it out for the Ulster Titles.
"Ulster GAA are also delighted to announce a price freeze on admission prices from last year's Club Championships, we hope this will encourage club supporters of all ages to come out and support their team in the AIB Ulster Club Championship 2013."
Ulster Camogie President Kathleen Woods said, "The Ulster Club  Championships is when our games come home to our Parishes, when clubs commitments are rewarded with County Championship cup and medals. Just as in our inter county Championships there are new names on cups for the first time and names that have been missing for some time reappeared. To all our County Championship holders well done and best wishes for the next challenge for Ulster and National Awards.  Ulster clubs can hold their own on the field of play with the rest of Ireland. We look forward to the club championships in anticipation of the skill, competitiveness and excitement that only the Parish can generate.
"The support of our sponsors NWP Recycling is vital in the development of Camogie in Ulster. Their contribution is greatly appreciated as is their presence at all our events"
Ulster Ladies Football President Joe Lagan stated, "We are looking forward to a very exciting Tesco Ladies Ulster Club Championship this year and wish all participating teams the best of luck.  With both regular and first-timers involved we are sure that passions will run high in the quest for silverware.  The Ulster Club competition is one that provides some of the best entertainment of the year and we hope that all our fellow gaels will come out to support the teams involved.
Mullaghbawn Instrumental Scor Group provided entertainment at the celebrations last night.
For further information Contact:
John Connolly (Ulster GAA PRO): (00353) 87 259 9186
Ciaran Kearney (Ulster Camogie): (028) 3751 7180
Paul Swift (Ulster Ladies PRO): (00353) 86 170 3640
Photo caption: Ulster Ladies Gaelic President Joe Lagan, Ulster GAA President Martin McAviney and Ulster Camogie President Kathleen Woods launch 2013 Ulster Club Championships along with players, mentors and supporters from competing clubs from across Ulster.  Pictured at the Athletic Grounds, Armagh.