GAA's role in Peace Building Celebrated by Co-operation Ireland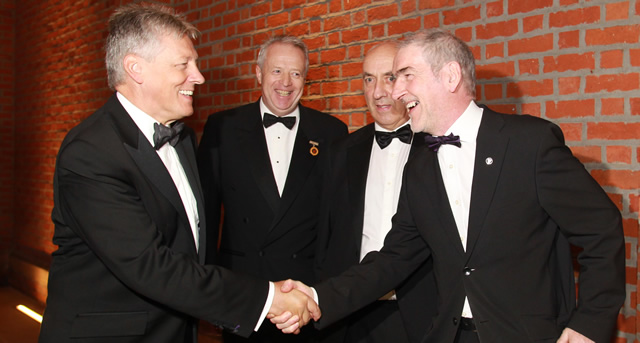 Senior GAA Officials including Director General Paraic Duffy, Ulster GAA President Martin McAviney and Provincial Secretary and CEO Danny Murphy were guests at a Co-operation Ireland event which celebrated the Associations role in Peace Building.
The event was attended by the Secretary of State Theresa Villiers MP, Mike Nesbitt MLA (Leader of the UUP), Alasdair McDonnell MP MLA (Leader of the SDLP), Minister Stephen Farry MLA (Alliance) and a range of community and business leaders. First Minister Peter Robinson MLA and deputy First Minister Martin McGuinness MLA were also in attendance.
First Minister Peter Robinson MLA was the keynote speaker at the event, and in his speech he said,
"I am absolutely convinced that 'respect' is the key to progress. And that 'understanding' is the key to 'respect'. Understanding requires us all to listen as well as talk. There is a difference between listening and merely hearing. Sometimes I feel that unionists say one thing, but nationalists hear something else. I'm certain the reverse is also the case. We must learn to communicate better. That why I am particularly grateful for this opportunity to present my message directly tonight, without any filter."
He, along with deputy First Minister Martin McGuinness MLA, joined a host of sports personalities, entertainers, politicians and key figures in the media to recognise the positive input towards a peaceful society made by the GAA over the last three decades.
The deputy First Minister said in response to a question asked he said that there was no organisation in Ireland like the GAA and he appreciated the support the GAA plays in reaching out to communities.
Peter Sheridan, Chief Executive of Co-operation Ireland said
"We are delighted that the First Minister has agreed to deliver a keynote speech at Queen's University Belfast celebrating the role of the GAA in peace building.
"Co-operation Ireland as a peace building charity wants to see an island that is inclusive and integrated, where people's cherished beliefs and identities are protected and celebrated. We can enrich each other with our different traditions rather than an intolerant co-existence."
Secretary of the GAA's Ulster Council Danny Murphy said the presence of the DUP leader was a 'significant step' on the way to improving community relations. He said "While it is not an intrinsic GAA event, it is a GAA event organised by Co-operation Ireland. I think in those terms it is another significant step along the road of improving relationships right across the whole sector."
Director General Paraic Duffy addressed the event on behalf of the Association and some of his remarks from the evening are below:
"I thank Co-Operation Ireland for the opportunity to partner with them in this celebration of the role of the GAA in peace building. An event of this nature couldn't have taken place 20 or even 10 years ago. It has taken the courage and commitment of people from both communities and traditions many of whom are in this room to establish a broad societal acceptance that a positive future for the people of this island can only be built on co-operation, mutual respect and an understanding and acceptance of each other's traditions.
The GAA is tonight particularly honoured by the attendance of the First Minister and Deputy First Minister. First Minister Peter Robinson has demonstrated real leadership through his engagement with the GAA and in particular he touched many of our members through his support for Mickey Harte and his family following the tragic death of Michaela McAreavey.
Deputy First Minister Martin McGuinness is a long standing supporter of the GAA and a welcome visitor to many of our games. More importantly, he has been a valuable source of advice and support as the GAA as the Association has worked to make progress in a range of difficult areas. The partnership of both of you in government is challenging but is the ultimate commitment to a society in which co-operation must prevail over conflict. It imposes a heavy burden on you but you have shown the courage and strength to take on that challenge.
The commitment of the GAA to peace building was manifest in the opening up of Croke Park to international rugby and soccer, in the visit of Queen Elizabeth II to Croke Park and, over a longer period, the active engagement of Ulster GAA in peace building through sport and community relations. I want to thank Ulster GAA and especially the Secretary and CEO Danny Murphy for their work in leading our outreach and engagement work.
I want to make it clear this evening that the GAA wants to be an active partner in building a society based on shared values. We will continue to reach out to people from other traditions and we will show leadership in this regard. There will be challenges in this work as sometimes some of our own GAA members will disappoint us in things they say and do and sometimes we will be disappointed about what others will say about us but be assured the Association remains determined and committed to developing a shared future based on tolerance and respect."