Volunteers set to 'Club Together' at Conference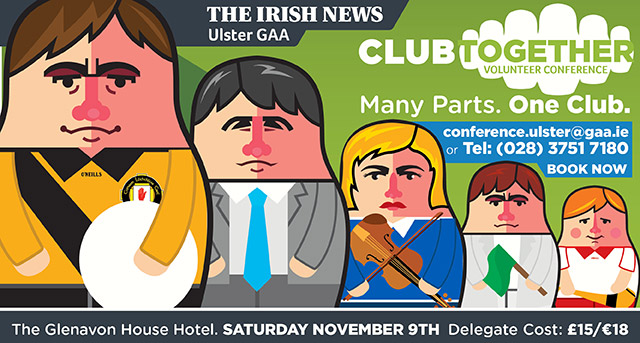 Ulster GAA have announced details of 2013 Volunteer Conference 'Club Together' which will take place in the Glenavon House Hotel on Saturday 9th November from 9:00am – 3pm.
The flagship volunteer conference is always a popular event among club members and this year's conference will have something for everyone with the focus on useful workshops to develop the Club Volunteer skills and knowledge base.
Workshops are expected to cover:
Integration – Club Together
Health & Wellbeing – Tackling Mental Illness
Culture 'Gaeilge sa Chlub'
Social Media – How's your club trending?
Fundraising – Raising the roof
Volunteering – Recruiting and developing volunteers
Heritage – Marking Milestones in your club
Finance – Sourcing Fund for your GAA Club
A number of keynote speeches are also expected by guest speakers.
Registration is now open for this conference, at a cost of £15/€18 per delegate and Ulster GAA is pleased to announce a special discount for the first 20 clubs registered where a club will get 5 delegates for the price of 4 at £60/€72.
To register or for more information email conference.ulster@gaa.ie or phone Fionntan O'Dowd on (028)3751 7180.