Club Together Conference Sells Out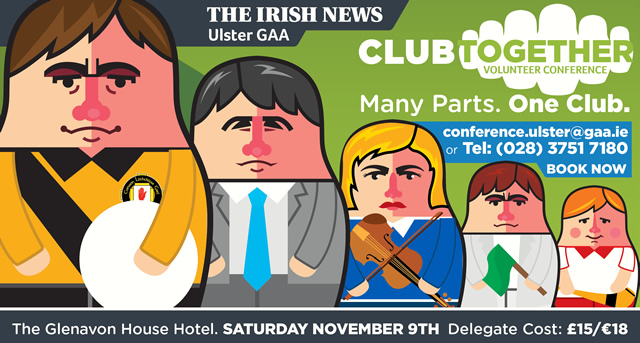 Hundreds of Club Officers from across Ulster will converge on the Glenavon House Hotel in Cookstown on Saturday morning for the 2013 Irish News Ulster GAA Volunteer Conference 'Club Together'.  The conference is selling out fast with only a small number of places now available.
The conference has plenty of mix and interest for club officers providing interesting discussion points and practical tips for improving governance within Ulster Clubs.
Club delegates are asked to arrive at the Glenavon Hotel for registration between 8:30am-9am with conference opening at 9am SHARP with a Scór performance from Ulster Scór Champion Nicola Timoney from Belcoo Club in Fermanagh.
GAA pundit Austin O'Callaghan will be master of ceremonies at this special event and in the opening plenary session will welcome Irish News Editor Noel Doran, Ulster GAA Treasurer Oliver Galligan and GAA President Liam O'Neill for opening remarks.
Emphasising the important work of Ulster GAA's Community Development Department, Provincial Secretary Danny Murphy will welcome the Deputy Leader of NI21 John McCallister to give an outsiders perspective of the GAA and his thoughts on the GAA's ongoing work to build respect and community relations.
Conference delegates will then get to work as they break into the first of two sets of workshops:
Integration 'Club Together' – Tyrone Chairman Ciaran McLaughlin and Ulster GAA's Head of Community Development Ryan Feeney will showcases the 'One Club' model, highlighting the challenges and benefits of the approach.  Presenting integrated club case studies as models of best practice attendees will be advised on how to move their Club towards this approach to administration.
Health & Wellbeing 'Tackling Mental Illness' – Dr Lynette McShane from Niamh Louise Foundation and Fiona Teague from the Public Health Agency will draw on personal experience to reflect on challenges faced by GAA members.  Clubs are advised on how to best promote awareness of mental wellbeing and how to support someone who may experience difficulties.
Culture 'Gaeilge sa Chlub' – Malachy Ó Néill from University of Ulster and Ursula Donnelly from Líofa will use this session to reflect on the GAA's role in relation to the Irish language and provides direction on initiatives which would benefit members in enhancing their language development.
Social Media 'How's your Club trending?' – The Apprentice Star Jim Eastwood, Tyrone Ladies Gaelic Star and PR guru Gemma Begley and Niall Laird from Lairdesign will reflect on the importance of marketing and branding, this session advises Clubs on how to maximise their profile online to yield better communication and awareness of activities.
Fundraising 'Raising the Roof' – Bobby Farren (Derry GAA), John News (Sport NI) and Jane Crudden (Cavan County Council) will showcase examples of Clubs who have successfully sourced funds and outlines public funding channels which are available to GAA units.
Nineteen businesses and organisations will be promoting their products and services to the 300 strong conference delegates including: Irish News, Glenavon House Hotel, BBC, NW Media Group, Tughans, O'Neills, Comhairle na Gaelscolaíochta, Ulster Community Investment Trust, Comhairle Uladh / Ulster GAA, Volunteer Now, The GAA Store, McGurk Architects, Tony Patterson's Sportsgrounds, Musco Lighting, The Cormac Trust, The Great Outdoors (TGO) NI, McSport and Líofa
The second plenary session takes place just before complimentary lunch and will include an overview from Irish News Marketing Manager John Brolly on fixtures.  Martin McAvoy will update the conference on the GAA national officer training programme before Apprentice Star and entrepreneur Jim Eastwood presents his thoughts on 'selling' the GAA club message.
This session will close with 'The Club Gathering' panel discussion which will include Derry legends Tony Scullion and Enda Muldoon, Cushendall and Antrim Hurler Neil McManus, Clonduff Camog Fionnuala Carr and Tyrone and Carrickmore Ladies Gaelic Star Gemma Begley.  This armchair session promises to give plenty of food for thought for club representatives about how to improve their own clubs.
Workshops will be ran for a second time after lunch, with the addition of two new workshops:
Volunteering 'Recruiting and developing volunteers' – Armagh legend and Chairman of Silverbridge Club Jarlath Burns and Una Kelly from the Michaela Foundation will explore means by which GAA clubs can recruit, develop and retain their volunteers, showcasing examples from within the Association and from beyond.
Heritage 'Marking Milestones in your club' –  Iar Uachtarán CLG Aogán Ó Fearghail and Ulster GAA Cultural Education and Outreach Officer will provide advice on how best to record and celebrate Club achievements to leave a lasting legacy.
The 2013 Irish News Ulster GAA Club Together Conference will conclude with an address from Aogán Ó Fearghail 'Putting the GAA Club at the Centre of the Community' and Ulster President Martin McAviney will officially close the conference, which is expected to close shortly after 3:30pm.
For any last minute registration inquiries people are asked to contact Fionntan O'Dowd on 028 37517 180 or email conference.ulster@gaa.ie