Gaels challenged to 'Club Together'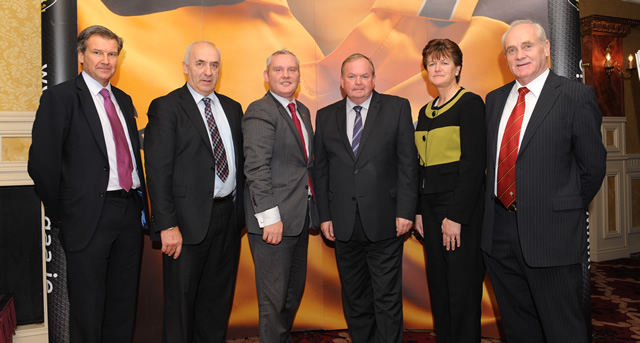 Hundreds of Gaels from across Ulster today gathered at the Glenavon House Hotel in Cookstown for the 2013 Irish News Ulster GAA Volunteer Conference – Club Together.
Guest speakers included Deputy Leader of Pro-Union NI21 John McCallister and The Apprentice Star Jim Eastwood.
John McCallister provided a thought-provoking opening speech challenging the GAA.  He said, "The GAA has done much to address historic perceptions that have hurt this organisation.  But – and I know you realize this – there is more to be done.  There are still some out-standing issues to be addressed."
He spoke warmly about what the GAA means to him as "a pro-Union, monarchist, Presbyterian".  He said, "Let me share with you something of what the GAA means to me.  It means local faces, local families – people I know, in the community in which I grew up and in which I live …  Neighbours and friends who are passionate about Gaelic sports.  It also stands for sporting spectacle.  Spectating in any well-played sport, to see skill and determination displayed, is a joy.
"GAA also means something else to me – and I say this knowing that I risk alienating quite a few people here today … When I hear GAA I think of the great county of Down … a place I call home."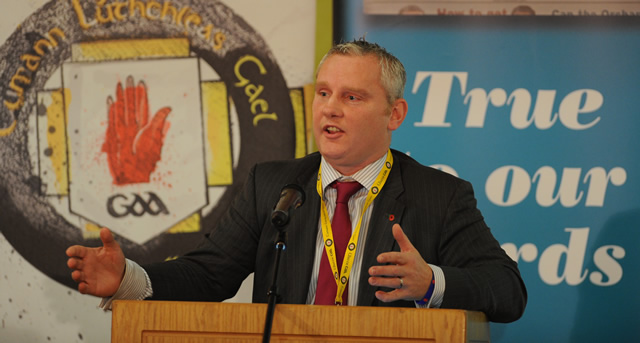 John McCallister concluded by challenging the GAA in the theme of the conference 'Club Together'.  He said, "'Us and Them' sports is like 'Us and Them' politics – It's self-defeating and, increasingly, totally alien to a new generation growing up free from the spectre of the Troubles.  Surveys are consistently showing that when younger citizens are asked whether they are unionist or nationalist.  The largest number say they are 'neither'.  They simply do not identify with old tribal divisions.  Any organisation that allows old, tribal perceptions to endure does not demonstrate that it is part of shared future rather than a divided past."
Apprentice Star Jim Eastwood gave a performance which would have impressed Lord Sugar as he spoke about his perception of GAA, as a former Tyrone Minor and U21 Player.  Jedi Jim went down a treat with Gaels as he owned the stage as he sold the GAA in a way that's never been done before.
Jim highlighted that 'being a Gael is special and even those letters spell something that emphases what makes the GAA so unique and important.'
In a lively performance he spelt out why being a Gael is SPECIAL:
Sell yourself – it's not a hard sell to promote the GAA and to promote your club, a quarter million people give of their time freely to be involved in the GAA in Ulster – that speaks for itself
Pride, Perception, Progressiveness  – Pride in your club, county and province.  Perception of your club to outsiders.  GAA is continually moving forward and progressing for the better
Expertise that lies within – so many people involved in GAA across so many fields and it's important to use people's strengths and skills within the GAA clubs
Community, Continuity and Change – Club is community. There must be continuity in how to do things though Club Maith and the GAA must be open to change
Investment – good clubs attract investment, we just need to look at the businesses that are supporting this conference today
Actions – Believe in yourself, Focus on what you want. Be positive and persistent.  Be yourself.  Just do it.  Go home from this conference and put the talk into action.
Leading and Learning – a leader is someone who people want to follow, but a leader must be open to learning, to listen and to bring people with you.
Another special moment at the Club Together Conference was the panel session called 'Club Together' which welcomed GAA stars old and new from across all codes to the stage to talk about what club means to them.  Derry stars Tony Scullion and Enda Muldoon, Down Camog Fionnuala Carr, Tyrone Ladies Gaelic Star Gemma Begley and Antrim and Cushendall Hurler Neil McManus spoke about their pride and experiences playing for their county and club and emphasized that the GAA is all about Club and the Club always comes first.  Derry All Star and All Ireland winner Tony Scullion summed the discussion up well, talking about his experiences both within his playing and coaching career he said, "Any day you lace up your boots to represent club or county is one of the best days of your life."
Ulster GAA President Martin McAviney said, "The Irish News Ulster GAA Club Together Conference has been a huge success.  It's been a real celebration of our clubs and a celebration of the many volunteers across Ulster involved in their clubs, promoting the GAA to a new generation and ensuring that the GAA is the heartbeat of all our communities."
300 delegates were treated to a full day's conference which included a comprehensive exhibition area, interesting workshops and various plenary sessions.  The club celebrations continue tomorrow as each conference delegate received a complimentary ticket to the Ulster Club Championship quarter final replay between Crossmaglen and Kilcoo which will take place in the Athletic Grounds on Sunday 10th November.