Off the Booze & On the Ball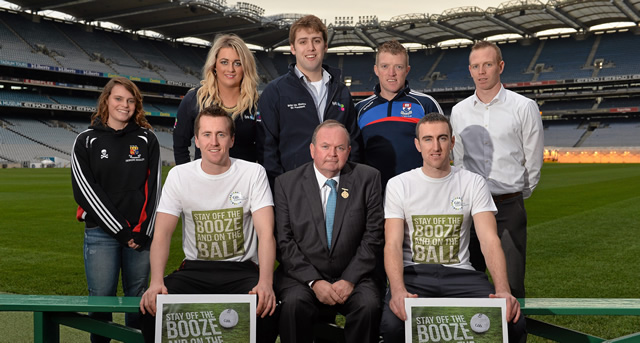 Now entering its third year, the GAA's 'Off the Booze & On the Ball' challenge is extending its positive message about alcohol consumption and healthier lifestyles into the third level education sector.
Traditionally focused on GAA clubs and members during the month of January, the Challenge, as it is also known, invites participants to abstain from alcohol for four weeks in order to give their New Year a healthy kick-start. This year, nine Third Level institutions from across the four provinces have also come onboard to promote the positive message behind the campaign. Due to holidays and exam timetables, the colleges will roll out The Challenge over varying four week periods between January and February, depending on their semester calendars.
Driven by the GAA's Alcohol and Substance Abuse Prevention (ASAP) programme, a partnership with the HSE, 'The Challenge' offers participants the opportunity to press pause following the hectic social calendar of the holiday season. For some clubs, The Challenge is also used as an opportunity to fundraise in a fun and healthy way – everyone who registers receives an information pack with practical tips on how to implement a healthier lifestyle as well as a sponsorship card.
"This is a novel way of addressing an issue that is of importance to every one of us – our health and wellbeing," explains Uachtarán CLG, Liam O'Neill, who launched the 2014 Off the Booze & On the Ball challenge in Croke Park. "Engaging with your local or college GAA club is one of the best things you can do for your physical, mental, social, and emotional health. How we engage with alcohol has an impact on all of those aspects of our health. We are delighted to welcome our partner colleges onboard for 2014, while I hope our club members also continue to take up the challenge as they have done over the past two years."
The GAA will be promoting The Challenge through their Facebook and Twitter accounts and will be offering participants support and incentives throughout the campaign period.
The participating colleges will have an activation day on each of their campuses in the weeks running up to their Challenge. (Details will be carried on college websites and social media.) The supporting colleges are UCC, Waterford IT, DCU, Tallaght IT, Athlone IT, Letterkenny IT, Sligo IT, and NUIG, while
Queens University Belfast will be promoting The Challenge across their GAA clubs and societies in 2014, the year the college will host both the Sigerson and the Fitzgibbon Cup competition weekends.
Visit www.gaa.ie/thechallenge for more details and to register for 'Off the Booze and On the Ball'.