Ulster Club Football Semi Finals Round-Up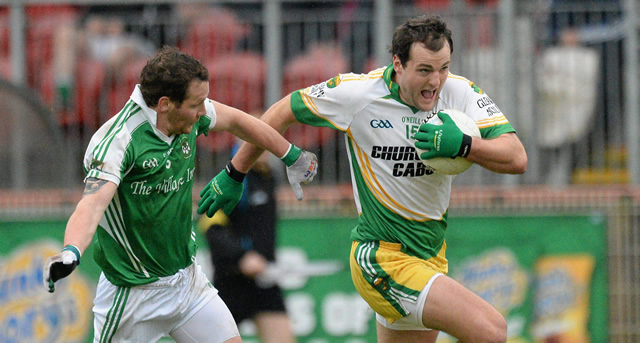 Ballinderry and Glenswilly will clash in the final of the Ulster Club Senior Football Championship, following semi final victories over Kilcoo and Roslea respectively today.
In the Intermediate Championship, Eskra (Tír Eoghain) will face off against Truagh (Muineachán) after they accounted for Cavan champions Killeshandra and Derry's Foreglen this afternoon.
The Junior decider will also be contested by Tyrone and Monaghan champions as Killeeshil and Emyvale recorded impressive semi final victories today.
—
AIB Ulster Club Senior Football Championship Semi Finals:
Glenswilly (Dún na nGall) 3-09 v 2-08 Roslea (Fear Manach) at Healy Park Omagh
Kilcoo (An Dún) 0-09 v 1-10 Ballinderry (Doíre) at Athletic Grounds
AIB Ulster Club Senior Football Championship Final:
Sunday 1st December
Ballinderry (Doire) v Glenswilly (Dún na nGall) at Healy Park, Omagh (3.00pm)
—
AIB Ulster Club Intermediate Football Championship Semi Finals:
Killeshandra (An Cabhán) 1-07 v 0-12 Eskra (Tír Eoghain) at Brewster Park
Truagh (Muineachán) 2-11 v 0-07 Foreglen (Doíre) at Healy Park
AIB Ulster Club Intermediate Football Championship Final:
Saturday 30th November
Eskra (Tír Eoghain) v Truagh (Muineachán) at Athletic Grounds, Armagh (7.45pm)
—
AIB Ulster Club Junior Football Championship Semi Finals:
Annaghmore (Ard Mhacha) 0-06 v 1-10 Emyvale (Muineachán) at Athletic Grounds
Milford (Dún na nGall) 1-08 v 2-14 Killeeshil (Tír Eoghain) at Brewster Park
AIB Ulster Club Junior Football Championship Final:
Saturday 30th November
Emyvale (Muineachán) v Killeeshil (Tír Eoghain) at Athletic Grounds, Armagh (6.00pm)
—
For all information relating to the 2013 Ulster Club Championships, view www.ulster.gaa.ie/clubchampionships2013/