Ulster success on Ladies All Star Night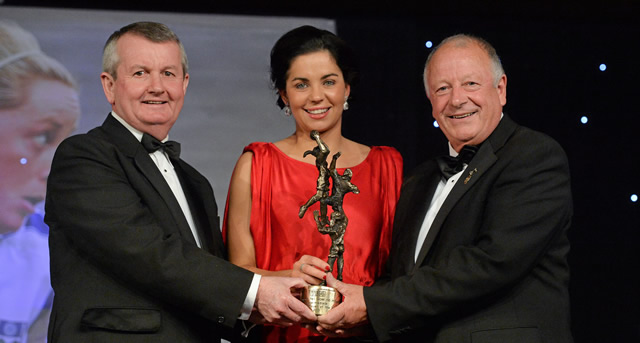 A great night was had by a number of Ulster Gaels at the Ladies Gaelic Football TG4 All Star Awards on Saturday 9th November at a packed City West Hotel.  Ulster did well with 4 Monaghan players picking up All Star Awards namely the Courtney sisters Sharon & Cora as well as Grainne McNally and Caoimhe Mohan.  Cavan were also celebrating with Grainne Smith (pictured) picking up the Intermediate Players Player of the Year Award and Neasa Byrd collecting the Ulster Young Player of the Year Award.
Guests of the banquet were treated to a full night's entertainment including as well as an inspirational speech from guest of honour Joanne O'Riordan.  Joanne has recently been the subject of the 'No Limbs, No Limits' documentary and has been a previous recipient of the 'Young Person of the Year Award' as well as having addressed the United Nations. Joanne is an inspirational figure to many people and is also a big fan of Ladies Gaelic Football.
The full list of Award recipients are as follows:
2013 TG4 All Star Team
Yvonne Bynre (Mayo)
Grainne McNally (Monaghan)
Sharon Courtney (Monaghan)
Deirdre O'Reilly (Cork)
Briege Corkery (Cork)
Sinead Goldrick (Dublin)
Geraldine O'Flynn (Cork)
Annette Clarke (Galway)
Juliet Murphy (Cork)
Sarah Houlihan (Kerry)
Caoimhe Mohan (Monaghan)
Cora Courtney (Monaghan)
Valerie Mulcahy (Cork)
Cora Staunton (Mayo)
Louise Ni Muircheartaigh (Kerry)
2013 TG4 Player's Player of the Year
Geraldine O'Flynn (Cork)
2013 TG4 Intermediate Player's Player of the Year
Grainne Smith (Cavan)
2013 TG4 Junior Player's Player of the Year
Mairead Daly (Offaly)
2013 Hall of Fame
Mary Jo Curran (Kerry)
2013 TG4 Connacht Young Player of the Year
Tess Murtagh (Roscommon)
2013 TG4 Ulster Young Player of the Year
Neasa Byrd (Cavan)
2013 TG4 Munster Young Player of the Year
Kate Lenehan (Cork)
2013 TG4 Leinster Young Player of the Year
Lucy McCartan (Westmeath)