Victoria College Camogs get first taste of competition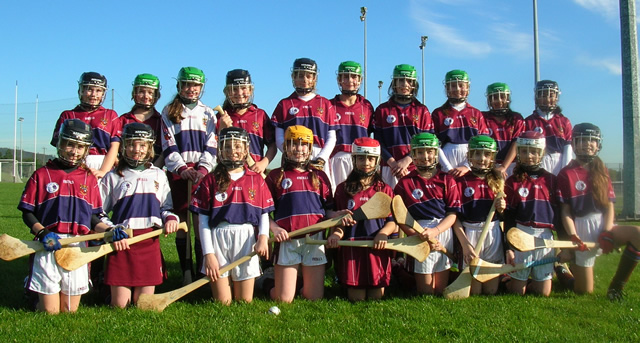 After six weeks of training, the Victoria College Year 8 camógs finally had their first competitive outing at a blitz hosted by the University of Ulster at Jordanstown.
Twenty schools were represented and such was the level of interest from the girls at Victoria College Belfast that Victoria College were one of only a few schools who entered two teams. The VCB Shamrocks played their first fixture against St. Patrick's, Dungannon. Goals from midfielder Ciara McParland, Tierna Murphy and centre half-forward Bree Moffett secured a 3-3 draw against the Co. Tyrone outfit.
The drumbeat of intent and purpose around the team was steadily increasing in tempo. They dealt with the next opposition, St. Paul's Bessbrook, like the encounter was nothing more than a quick pit stop along the road leading to greater glory. Fill up, fuel up, keep the engine running. The girls from the Orchard County possibly underestimated the skills of the city girls and we ran out comfortable winners by 6 goals to 1. An astonishing four goals from Captain Bree Moffett and a brace of goals from Marcia Hannon and Tierna Murphy did the damage.
VCB's final fixture of the day was a local derby against St. Joseph's College, Belfast. Again the VCB girls put on a terrific performance, earning a 3-3 draw thanks to goals from Marcia Hannon, Bree Moffett and a combined effort from Tierna Murphy and our chief playmaker in midfield, Susie Loane. This was a fabulous achievement by the girls who ended the day undefeated. Bree Moffett capped a superb individual performance by being one of only four players to be awarded a UUJ jersey for her Player of the Tournament performance.
The VCB Harps also recorded an impressive victory against St. Paul's, Bessbrook by a 1-0 margin thanks to a great individual effort from midfielder Keeva McAllister. Defeat against St. Paul's, Dungannon was followed by a 3-1 victory against Coláiste Féirste, courtesy of a brace of goals from Keeva McAllister and one from Izzy Simpson. Their final match was a tough encounter against St. Joseph's, Coalisland which the mid-Ulster school won by 2-0. The day was notable for great individual performances from Izzy Simpson and Harps Player of the Day, Keeva McAllister.
Victoria College Belfast Squad:
Bree Moffett (Captain)
Ciara McParland
Marcia Hannon
Susie Loane
Keeva McAllister
Kathryn Polson
Abby Palmer
Hannah Montevedre
Janna Dimitui
Raz Hassan
Lucy Greaves
Rachael McGarry
Orlagh Cecil
Tierna Murphy
Anna Patterson
Laraib Naveed
Helen Chapman
Izzy Simpson