O'Neill's Ulster GAA Coaching Conference 2014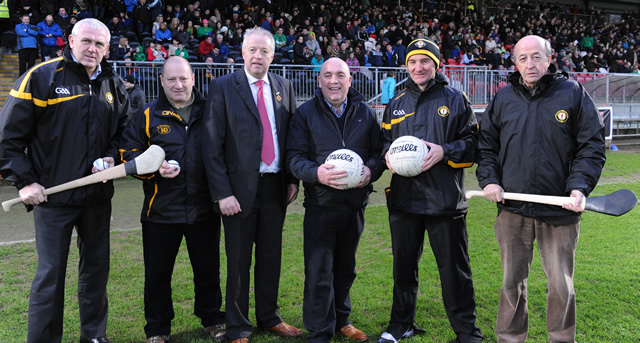 O'Neill's Ulster GAA Coaching Conference 2014
Hilton Hotel, Templepatrick, Co. Antrim
Saturday 1st February 2014
It is that time of year again when the club and county scene is almost wrapped up for winter and coaches begin to look at the programme of coach education courses that are available to them.
Everyone is trying to get that little edge over their competitors and coaches are hungry for information and coaching tips to stay ahead of their opponents.  The O'Neill's Ulster GAA Coaching Conference is always a focal point for the best coaches in Ulster and indeed coaches throughout Ireland and Britain.
The theme for 2014 is '20/20 Vision for 2020 Clubs' and will have a particular resonance with those coaches working within schools, clubs, academies and county squads in urban settings.
The morning and early afternoon sessions will include 12 workshops which will be followed by keynote speakers including advisor to the Sports Institute NI (SINI), Dr. Mario Bizzini, who will speak about the FIFA 11+ warm up.  Mario's talk will be of particular interest given that the GAA are currently completing the production of the 'Activate' GAA warm up resource in conjunction with the SINI, which will be the subject of an earlier workshop with renowned sports physiotherapist, Dr. Phil Glasgow.
Our guest speaker this year will be former All Star and four time All Ireland winner with Dublin, Brian Mullins.  A former Dublin and Derry Senior Football Manager, Brian is currently the Director of Sport at University College Dublin, and is also a key figure in his club, current Dublin and Leinster Club Football champions, St Vincents, where he is the Adult Games Director.
Conference Workshops will include:
The changing face of London GAA – a look at the successful development of Gaelic games between a small GAA Club and a Sports College in South London.
Sowing the seeds for the future, player development, club development
Reading the Signs, Symptoms and Signals in Schools and Clubs
Managing Talented Young Players
'Activate' GAA Warm Up
Positive Coaching, Positive Language, Positive Engagement
Channelling energy and commitment to Player Development.
Club Coaching in Urban Areas overcoming the challenges
Club Coaching in Urban Areas overcoming the challenges
Coaching Best Practice with Nursery Children
Coaching Best Practice with Youth Hurlers
Maximising the technology for Adult Player Development
Club Coaching Structures, Content and Style – programme for development
Workshop presenters will come from throughout Ireland and Britain and will include Dr. Phil Glasgow (Head of Sports Medicine at SINI), Paudie Butler (Former National Hurling Co-ordinator), Peter Casey (Clare Games Development Administrator), Niall McCann & Pat Winston (Dulwich Harps, London) and Brian Lotty (former Cork footballer, GAA Master Tutor and Teacher).
This year's Conference will break with tradition as we will be hosted, for the first time, by the Hilton Hotel, Templepatrick, Co. Antrim.  The location, close to the M2 Motorway and 10 miles north of Belfast, should prove popular due to its ease of access.
Coaches are advised to book their places early as we are usually fully booked out well in advance of the conference.
Delegate costs are £20/€23 and include lunch and a delegate pack.
To book your place, please contact Ashelene Groogan on 028 (048) 3752 1900 / conference.ulster@gaa.ie
—
Pictured at the launch of the 2014 O'Neills Ulster GAA Coaching Conference are Eugene Young (Ulster GAA Director of Coaching & Games, Jimmy Darragh (Ulster GAA Hurling Development Manager), Martin McAviney (President, Ulster GAA), Kieran Kennedy (Managing Director, O'Neills International Sportswear), Roger Keenan (Ulster GAA Coach Development Manager) and Terence McWilliams (Ulster GAA Games Development Manager)