Scór takes it to the 'Bridge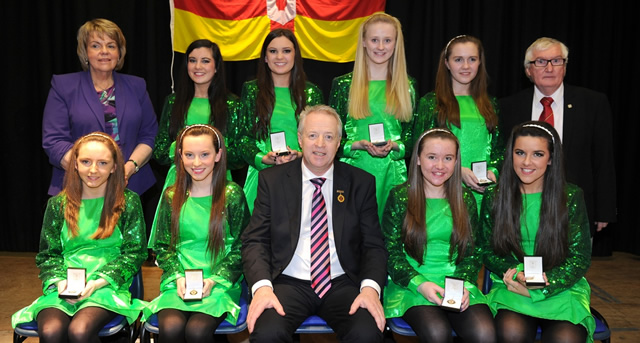 Cé go raibh sé rofhliuich le bheith ag imirt peile in Inis Ceithleann De sathairan seo caite, 25 Eanáir, ach leanadh ar aghaidh le babhta ceannais Uladh de Scór na nÓg i mBéal Átha an Airgid agus d'éirigh go maith leis. Bhí reimse leathan de bhuaiteoirí as sé cheann de na contaetha.
It was too wet to play much sport last Saturday, but the show went on successfully for the Gaelic Life Ulster Scór na nÓg final at Silverbridge.
The honours were spread among six counties on the night, with only Tír Eoghain collecting a second title. The two defending provincial champions who performed on the night, An Chrois Bhán and Droim Thamhain in Céilí Dancing and Instrumental Music respectively, both impressed the judges enough to hold on to their titles. In a very tight contest, meanwhile, An Ómaigh regained the Ballad Group title that it first won in 2012.
In the rest of the categories, however, there were first-time winners. Loinnir McAliskey of Doire Triosca emerged triumphant in Solo Singing, James Cartwright of Corr na Féinne prevailed in Recitation, and An Gleann (Doire), six-time Ulster Céilí Dancing champions, got a place on the Set Dancing roll of honour. In the newly re-branded 'Léiriú' competition, Bun Cranncha earned the dramatic garlands. In a break from the tradition of the last four decades, Tráth na gCeisteanna was not run as a provincial competition this year.
NA BUAITEOIRÍ / WINNERS
Rince Céilí: An Chrois Bhán / Whitecross (Ard Mhacha)
Amhránaíocht Aonair: Loinnir McAliskey, Doire Triosca / Derrytresk (Tír Eoghain)
Ceol Uirlise: Droim Thamhain / Drumhowan (Muineachán)
Aithriseoiracht: James Cartwright, Corr na Féinne / Cornafean (An Cabhán)
Léiriú: Bun Cranncha / Buncrana (Dún na nGall)
Grúpa Bailéid: An Ómaigh / Omagh (Tír Eoghain)
Rince Seit: An Gleann / Glen (Doire)