Ulster defeated by Leinster in Inter-Pro Hurling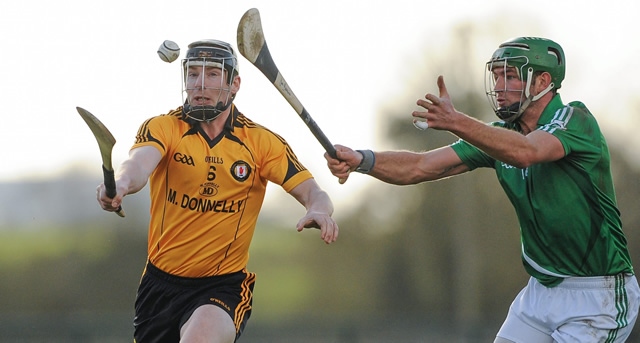 M. Donnelly Interprovincial Hurling Championship Semi Final
Leinster 8-18 Ulster 1-21
Ulster have fallen to Leinster in the semi final of the M. Donnelly Interprovincial Hurling Championship, which was played at Trim on Sunday 9th Fenruary.
Kilkenny's Colin Fennelly found the net after just 20 seconds, and this set the tone for a rather facile victory for the Leinster men who led 5-11 to 0-6 at half-time thanks to goals from Fennelly (2), Dublin's Paul Ryan (2) and Offaly's Joe Bergin.
Dublin's Ryan O'Dwyer added another goal shortly after the restart, before Ulster enjoyed a purple patch where they outscored their opponents 0-8 to 0-1.
Paul Shiels did find the net for Ulster's only goal, but further majors from Wexford's Jack Guiney and another from Bergin had already sealed the fate of the Ulster men.
Scorers for Leinster: C Fennelly 2-2, J Bergin 2-0, E Larkin 1-3 (1f), P Ryan (1-0 pen), J Guiney 1-2 each, R O'Dwyer 1-1, D Currams 0-3, P Murphy, C Keaney 0-2 each, J McCaffrey 0-1.
Scorers for Ulster: P Shiels 1-5 (1-4fs), N McManus 0-5 (0-1 pen), N McKenna, C Clarke 0-4 each, C Woods, A Grant, D McKernan 0-1 each.
Leinster: G Maguire (Dublin); P Murphy (Kilkenny), P Kelly (Dublin), C Kenny (Wexford); T Walsh (Kilkenny), L Chin (Wexford), R Kehoe (Wexford); M Carton (Dublin), E Larkin (Kilkenny); C Keaney (Dublin), R O'Dwyer (Dublin), J McCaffrey (Dublin); C Fennelly (Kilkenny), J Bergin (Offaly), P Ryan (Dublin). Subs: D Currams (Offaly) for Ryan (45), J Guiney (Wexford) for Fennelly (45), N O'Brien (Westmeath) for O'Dwyer(53), D English (Carlow) for Walsh (53), G Synnott (Wexford) for Carton (60).
Ulster: S Doherty (Armagh); B McFall (Antrim), C McKinley (Antrim), S Ennis (Down); C Woods (Down), N McAuley (Antrim), S McCrory (Antrim); J McGreevey (Antrim), K Hinphey (Derry); N McKenna (Antrim), C Carson (Antrim), P Shiels (Antrim); C Clarke (Antrim), N McManus (Antrim), R Gaffney (Armagh). Subs: M Bradley (Antrim) for Hinphey (24), D McKernan (Antrim) for McFall (h-t), P Sheehan (Down) for McCrory (h- t), R Convery (Derry) for Gaffney (48), A Grant for McKenna (53).
Referee: J Keane (Galway)